A strenuous hike to the highest trail pass in Colorado featuring spectacular panoramic views of the high peaks and ridges of the Elk Mountains, including Castle and Cathedral Peaks to the southwest and the Maroon Bells, Snowmass Mountain, Pyramid Peak and Capital Peak to the northwest.
See Trail Detail/Full Description
Distance: 2.3 miles (one way) to Electric Pass Trail Junction
9.2 miles (round trip) to Electric Pass

Elevation: 9,880-ft. at Trailhead
11,790-ft. at Electric Pass Trail Junction
13,500-ft. at Electric Pass

Elevation Gain: 1,910-ft. to Electric Pass Trail Junction
3,620-ft. to Electric Pass

Difficulty: strenuous-difficult
More Hikes in:
Aspen / Central Colorado
Why Hike Electric Pass
If you are looking for a challenge and incredible panoramic views, hike the trail to Electric Pass. This strenuous hike, gaining over 3,600-ft. in 4.6-miles, climbs to a spectacular viewpoint on a high ridge running between Cathedral Peak and Peak 13635. From the pass awe inspiring vistas stretch southwest to the high peaks and ridges surrounding Cathedral Lake and ringing the head of the Castle Creek Valley. To the northwest a quintet of 14ers, North and South Maroon Peak, Snowmass Mountain, Pyramid Peak and Capital Peak, pierce the skyline amid a sea of ridges and summits.
On the return from the pass be sure to stop at beautiful Cathedral Lake, an alpine jewel cradled in a dramatic cirque beneath the rugged pinnacles and crags of Cathedral and Malamute Peaks.
It is essential to get an early start. The aptly names Electric Pass is a lightening magnet. Hikers should be off the pass and below the saddle leading to the pass before noon to avoid electric storms that frequently hit the pass in the early afternoon. The trail is not recommended for anyone with a fear of heights or hikers uncomfortable on narrow, exposed trails.
Elevation Profile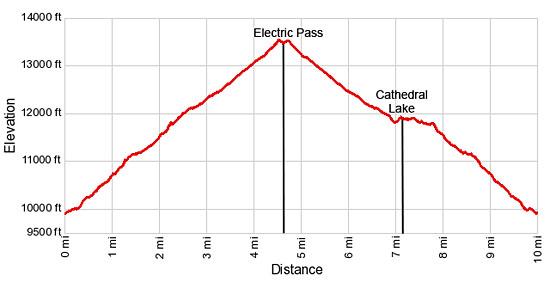 Buy the Book

This opinionated guide includes all the hikes in the Aspen, Buena Vista, Crested Butte, Marble and Leadville sections of the website plus info on local services and nearby attractions.
Trail Resources
Trail Detail/Full Description / Trail Photo Gallery / Trail Map
Basecamp(s) Information:
Aspen
Region Information:
Central Colorado
Other Hiking Regions in:
Colorado