Ptarmigan Tunnel
Distance: 11.0 miles (round trip)
Glacier National Park, near Many Glacier in Glacier Natl Park, MT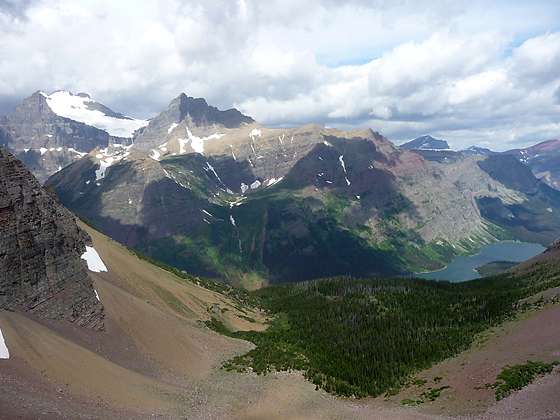 Mt. Merritt (10,004-ft.) and the Old Sun Glacier along with Natoas Peak rise along the west side of the Belly River valley

This moderately strenuous hike ascends to a tunnel piercing the Ptarmigan Valley's knife-edge headwall with stunning views of the peaks soaring above Many Glacier area to the south and the Belly River Valley to the north.
See Trail Detail/Full Description
Distance: 11.0 miles (round trip) to Ptarmigan Tunnel

Elevation: 7,360-ft. at Trailhead
7,360-ft. at Ptarmigan Tunnel

Elevation Gain: 2,420-ft. to Ptarmigan Tunnel

Difficulty: moderate-strenuous
More Hikes in:
Many Glacier / St Mary / Glacier Natl Park, MT
Why Hike Ptarmigan Tunnel
The Ptarmigan Tunnel and the Iceberg Lake trail ascends the beautiful Wilbur Creek Valley, along the lower slopes of Mt. Henkel (8,770-ft.) southwest flanks to Ptarmigan Falls, a worthy destination for hikers looking for a shorter day. Along the way the trail enjoys fine views of Mt. Grinnell (8,851-ft.), Swiftcurrent Mountain (8,436-ft.) and Mt. Wilbur (9,321-ft.) towering above the beautiful Swiftcurrent Valley.
At 2.6 miles the trail split with most hikers continuing to Iceberg Lake, one of the most popular destinations in the Many Glacier area. But hikers in the know follow the route less traveled, that heads up the pretty Ptarmigan Creek valley to lovely Ptarmigan Lake, nestled is a rocky cirque beneath the sheer cliffs of the Ptarmigan Wall and Crowfeet Mountain (8,914-ft.).
Beyond the lake the trail climbs long switchbacks up the valley's knife-edge headwall to the Ptarmigan Tunnel, a man-made passageway piercing the divide. The ascent of the headwall and overlook at the south entrance to the tunnel offer wonderful views of the peaks soaring above the Many Glacier area. But the best is yet to come.
Hikers emerging from the north side of the tunnel are greeted by views of the stunningly beautiful Belly River Valley where Elizabeth Lake lies cradled in a forested bowl. Natoas Peak (9,360-ft.) and the Crosley Ridge tower above the western side of the valley. Descend north from the tunnel for less than half a mile for more breathtaking vistas. Here views open to Ipasha Peak (9,572-ft.), Mount Merritt (10,004-ft.) and the Old Sun Glacier, the large snowfield flanking the east face of Mount Merritt.
Before starting the hike check at the Many Glacier Ranger Station to ensure the tunnel is open and the trail clear of snow. The Ptarmigan Tunnel is typically open from mid-July to October 1st.
Elevation Profile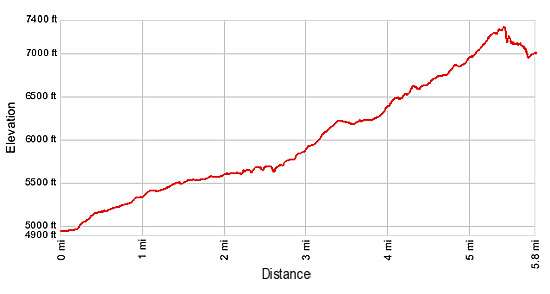 Trail Resources
Trail Detail/Full Description / Trail Photo Gallery / Trail Map
Basecamp(s) Information:
Many Glacier / St Mary
Region Information:
Glacier Natl Park, MT
Other Hiking Regions in:
Montana