A hike through forest with limited views leads to stunning vistas of Mount Jackson Gunsight Mountain and Fusillade Mountain towers above gorgeous Gunsight Lake as well as views of Citadel Mountain, Mount Logan and the Blackfoot and Jackson Glaciers.
See Trail Detail/Full Description
Distance: 12.1 miles (round trip) to Gunsight Lake

Elevation: 5,310-ft. at Trailhead
5,351-ft. at Gunsight Lake

Elevation Gain: 1,270-ft. to Gunsight Lake

Difficulty: moderate-strenuous
More Hikes in:
St Mary / West Glacier / Glacier Natl Park, MT
Why Hike Gunsight Lake
Beautiful Gunsight Lake is set amid soaring peaks at the head of the St Mary River Valley. Mount Jackson and Gunsight Mountain fill the skyline above the head of the lake while Fusillade Mountain towers above the lake to the north. Waterfalls spill down the slopes of Gunsight Mountain and into the lake.
Thick trees limit views along the first 4.5 miles of the hike, although openings near the St. Mary River and Mirror Pond reveal gorgeous vistas of the high peaks towering above the valley. Along the brushy slopes of Fusillade Mountain views opens to Citadel Mountain, Mount Logan, Blackfoot Glacier, Jackson Glacier and Mount Jackson.
As the trail nears the lake vista expand to include Gunsight Mountain and Gunsight Pass and then the gorgeous lake. Beaches along the lakeshore are the perfect place to relax, take in the views and enjoy a picnic lunch.
Be forewarned, this trail through sections of waist to shoulder high vegetation. Be sure to make noise when going through dense vegetation so that you don't inadvertently surprise a bear.
Elevation Profile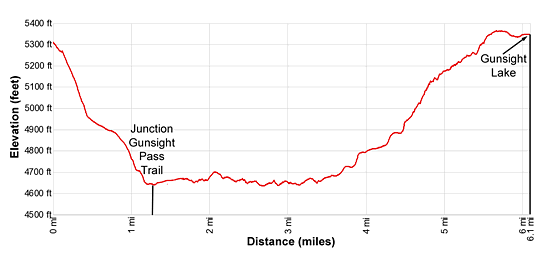 Trail Resources
Trail Detail/Full Description / Trail Photo Gallery / Trail Map
Basecamp(s) Information:
St Mary / West Glacier
Region Information:
Glacier Natl Park, MT
Other Hiking Regions in:
Montana