Splendid views of the peaks along the Continental Divide and rimming the Siyeh Creek Valley are the highlights of this scenic hike to Piegan Pass (7,570-ft.).
See Trail Detail/Full Description
Distance: 9.0 miles (round trip) to Piegan Pass

Elevation: 5,840-ft. at Trailhead
7,570-ft. at Piegan Pass

Elevation Gain: 1,730-ft. to Piegan Pass

Difficulty: moderate-strenuous
More Hikes in:
St Mary / West Glacier / Glacier Natl Park, MT
Why Hike Piegan Pass
The spectacular peaks along the Continental Divide are the stars of the show on this great hike to panoramic Piegan Pass (7,570-ft.). The trail starts with a moderately steep climb through spruce-fir forest to a trail junction offering hikers the option to visit Siyeh Pass or Piegan Pass. Both are great destinations and can be combined for a long, memorable day hike.
From the junction the scenic trail ascends beneath the open slopes of Mt. Siyeh (10,014-ft.) and Cataract Mountain (8,180-ft.). As you climb views open to Piegan Pass, the saddle on the ridge to the northwest running between Piegan Mountain (9,220-ft.) and Cataract Mountain (8,180-ft.). Pollack Mountain (9,190-ft.) and the serrated profile of the Bishop's Cap (9,127-ft.), rise beyond the pass to the west along the Continental Divide. Mt. Jackson (10,052-ft.), the Jackson Glacier, Blackfoot Mountain (9,574-ft.) and the Blackfoot Glacier dominate the view to the south.
The south side of the broad pass offers excellent views of Mt. Siyeh, Matahpi Peak (9,365-ft.) and the Going-to-the-Sun Mountain. Pollock Mountain looms above the pass to the west. A vantage point on the north side of the pass offers stunning views of the peaks along the Garden Wall on the Continental Divide, including the Bishop's Cap and Mount Gould (9,553-ft.). Distant views extend north to Mount Grinnell (8,851-ft.), Mt. Wilbur (9,321-ft.) and Mt. Henkel (8,770-ft.) in the Many Glaciers area.
Most hikers turn around at Piegan Pass, retracing their steps to the trailhead. If time and weather permit, return to the trail junction and hike to Siyeh Pass and the Baring/Boulder Creek divide. The divide enjoys terrific views of the Matahpi Peak, the Sexon Glacier and the Baring/Boulder Creek valleys. Another option is to continue over the pass on a trail that drops steeply down the Cataract Creek Valley to the trailhead at the Many Glaciers Hotel.
Check the current trail conditions before starting the hike. Snow may linger on the upper slopes of Cataract Valley well into the summer, making it difficult to find the trail and climb the steep, slippery slopes to the pass.
Elevation Profile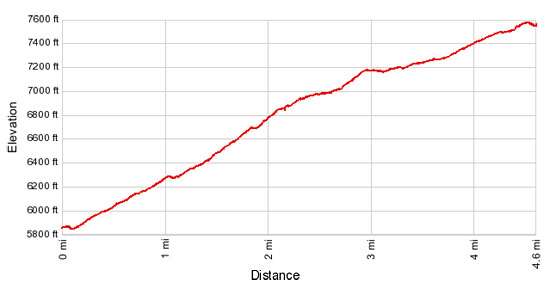 Trail Resources
Trail Detail/Full Description / Trail Photo Gallery / Trail Map
Basecamp(s) Information:
St Mary / West Glacier
Region Information:
Glacier Natl Park, MT
Other Hiking Regions in:
Montana