A scenic ascent of beautiful Preston Park and then a steep climb up pretty meadows and talus slopes leads to Siyeh Pass and the Baring/Boulder Divide, where stunning views unfold to the Sexton Glacier, Matahpi Peak, the Baring and Boulder Creek Valleys and beyond.
See Trail Detail/Full Description
Distance: 9.2 miles (round trip) to Siyeh Pass

Elevation: 5,840-ft. at Trailhead
8,110-ft. at Siyeh Pass

Elevation Gain: 2,270-ft. to Siyeh Pass

Difficulty: moderate-strenuous
More Hikes in:
St Mary / West Glacier / Glacier Natl Park, MT
Why Hike Siyeh Pass
A moderately steep climb through spruce-fir forest leads to a junction offering hikers the option to visit Siyeh Pass (7,750-ft.) or Piegan Pass (7,570-ft.). Both are great destinations and can be combined for a long, memorable day hike. The scenic Siyeh Pass trail ascends beautiful Preston Park on easy grades, passing through stands of subalpine larch, dwarf firs and stunted pines interspersed with pretty meadows dotted with wildflower. Along the way enjoy wonderful views of Mt. Siyeh (10,014-ft.) and Piegan Mountain (9,220-ft.).
At the head of the valley a steep trail ascends the northern slopes of Matahpi Peak (9,365-ft.) toward Siyeh Pass, a grassy saddle on the ridge running between Mt. Siyeh and Matahpi. The trail follows a route above and to the south of the pass and then switchbacks up Matahpi's steep talus slopes to the Baring Creek/Boulder Divide. From the Divide, panoramic views extend south down the Baring Creek Valley to the west end of St. Mary Lake. Little Chief Mountain (9,541-ft.) and Mahtotopa Mountain (8,672-ft.) tower above the south side of the lake. A vantage point a short distance down the south side of the Divide offers fine views of the Sexton Glacier on the southeastern flanks of Matahpi Peak.
Most hikers turn around at the Divide, retracing their steps to the trailhead. If time and weather permit, return to the trail junction and hike to Piegan Pass. The pass enjoys terrific views of the jagged peaks along the Continental Divide and the Many Glaciers area. Another popular option is to continue over the Divide on a trail that drops steeply down the Baring Creek Valley to the Sunrift Gorge trailhead on the Going-to-the-Sun Road, losing 3,340-ft.
Check the current trail conditions before starting the hike. Snow may linger on the slopes of Matahpi Peak well into the summer, requiring the use of crampons to safely traverse the steep slopes leading to the Baring/Bounder Creek Divide.
Elevation Profile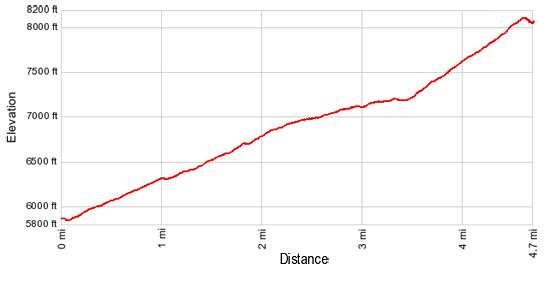 Trail Resources
Trail Detail/Full Description / Trail Photo Gallery / Trail Map
Basecamp(s) Information:
St Mary / West Glacier
Region Information:
Glacier Natl Park, MT
Other Hiking Regions in:
Montana