Great views of the Mischabel peaks towering above Saas Fee and the Saas Valley are the highlights of this short trail descending from Plattjen to Saas Fee along the Gemsweg
See Trail Detail/Full Description
Distance: 3.9 miles (one way)

Elevation: 8,447-ft. at Trailhead
Maximum elevation: 5,854-ft.

Elevation Gain: -2,593-ft.

Difficulty: moderate
More Hikes in:
Saas Fee / The Valais
Why Hike Plattjen to Saas Fee (Gemsweg Part 2)
This short hike offers terrific views of the 13,000-ft. (4,000-meter) peaks of the Mischabel Range, the Hohbalm and Fee Glaciers and the Saas Valley. Starting in Plattjen, reached by a gondola from Saas Fee, the trail drops down rocky meadows and then travels through low-lying shrubs and larch forests as it curves around the east and south slopes above Saas Fee.
This splendid half day hike, accompanied by terrific views, can be extended when combined with the reverse of the hike from Hannig to Saas Fee. The resulting 5.6 miles hike, called the Gemsweg, essentially follows a 180-degree arc around the lower slopes of cirque surrounding the Saas Fee.
The second half of the hike to Hannig travels by a glacial lake fed by a beautiful waterfall, climbs a moraine wall and then ascends through pretty meadows along the steep slopes above the west side of Saas Fee. Along the way the trail enjoys bird's-eye views of the stunning glacial cirque surrounding Saas Fee and the peaks rising along the east side of the Saas Valley. At Hannigalp a gondola descends to Sass Fee. For more information see the Hannig to Saas Fee hike.
Whether you just take the trail from Plattjen to Saas Fee or combine the hike with the Hannig trail you are guaranteed to have a great walk.
Elevation Profile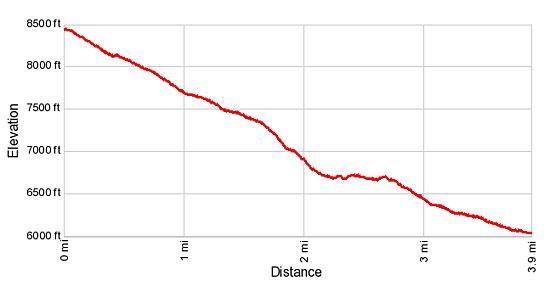 Support our Site
Buy the Book

This opinionated guide includes all the hikes in the Switzerland section of the website plus info on local services and nearby attractions.
Trail Resources
Trail Detail/Full Description / Trail Photo Gallery / Trail Map
Basecamp(s) Information:
Saas Fee
Region Information:
The Valais
Other Hiking Regions in:
Switzerland