Golden Throne
Distance: 3.8 miles
Fruita District, Capitol Reef National Park, near Capitol Reef in South Central Utah
Ascend benches above Capitol Gorge to an overlook atop of Waterpocket Fold with great views of Golden Throne, an impressive tower, Capitol Gorge and the nearby formation in the heart of Capitol Reef.
Distance: 3.8 miles (RT)
Elevation: 5,420-ft. at Trailhead
Maximum elevation - 6,150-ft.
Elevation Gain: 730-ft.
Difficulty: moderate
Basecamp: Capitol Reef
Region: South Central Utah
Trail Description - Golden Throne
The Golden Throne trail starts at the end of the Capitol Gorge Road (see driving directions below). Initially the trail climbs moderate-steep grade up the north side of the Capitol Gorge. Soon the grade abates and the trail heads west, ascending Kayenta sandstone benches along the north side of Capitol Gorge. The canyon massive walls tower above both side of the canyon. Below you is the Capitol Gorge Road,
The path curves in and out of three drainages, with alternating level sections followed by moderate climbs out of the short side canyons. Views of the canyon walls and surrounding Navajo sandstone knobs and domes evolve as you twist in and out of the drainages.
At 0.9 miles, as you round the corner beyond the second drainage, views open to the Golden Throne, an impressive tower, rising to the northwest. Unlike the surrounding formations the Golden Throne's Navajo sandstone dome is not white but golden-brown in color. The coloring is the result of staining caused by the erosion of Carmel Formation caprock, composed of reddish-brown siltstone, topping the formation.
At 1.4 miles, after emerging from the third and final side canyon, the trail follows a more direct course to the northwest as it ascends toward the viewpoint. Reach the end of the trail atop a small knoll at 1.8 miles.
Here the Golden Throne (7,024-ft.), one of the tallest formations in the Park, towers above white Navajo sandstone ridges to the north. Views stretch southwest to Boulder Mountain and the Aquarius Plateau rising above a sea of red sandstone formation. The Henry Mountains, to the southeast, form the backdrop for the Navajo sandstone formation sitting atop the colorful cliffs of Waterpocket Fold. Below you is Capitol Gorge.
When you are done taking in the views, retrace your steps to the trailhead, enjoying more fine views of Capitol Gorge and the surrounding landscape of multi-hued ridges topped by domes, knobs and blocks.
Elevation Profile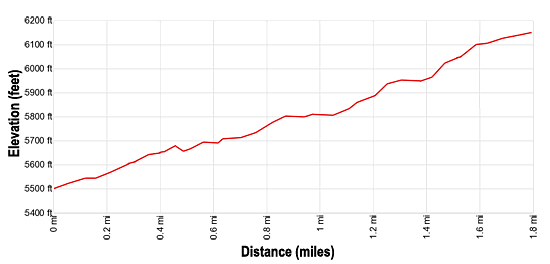 Driving Directions
Capitol Reef Visitor Center: Turn right out of the Visitor Center on Campground Road, which turns into Scenic Drive. Travel 7.8 miles south to the end of the paved portion of Scenic Drive to an intersection. Bear right on the Capitol Gorge Road. Drive 2.3 miles to the end of the graded dirt road and the trailhead for Capitol Gorge and the Golden Throne. The trailhead is located along the west side of the parking area..
Trail Resources