The trail to Sentinel Pass features exceptional views of the jagged summits of the Valley of the Ten Peaks, set against an ever evolving foreground of larches, meadows and rugged slopes. At the pass the views expand, extending north to stunning Paradise Valley.
See Trail Detail/Full Description
Distance: 7.0 miles (round trip) to Sentinel Pass

Elevation: 6,183-ft. at Trailhead
8,566-ft. at Sentinel Pass

Elevation Gain: 2,383-ft. to Sentinel Pass

Difficulty: moderate-strenuous
More Hikes in:
Banff / Lake Louise / The Canadian Rockies
Why Hike Sentinel Pass
Spin a postcard rack in Banff and you are bound to see the iconic view of the Valley of the Ten Peaks towering above gorgeous Moraine Lake. The popular hike to Sentinel Pass (8,566-ft.) starts with this view and only gets better.
The trailhead for Sentinel Pass is located along the northwest shore of Moraine Lake and follows the Larch Valley Trail as it ascends through trees above the lake's northwestern shore. Shortly after passing the junction with the trail to Eiffel Lake the trees give way to meadows with panoramic views of the ten peaks, all over 10,000-ft., soaring above the south side of the valley.
As you climb the trail briefly reenters a grove of beautiful larch trees before emerging on the lovely meadows of the Larch Valley. Ahead views open to Eiffel Peak (10,116-ft.) and Pinnacle Mountain (10,060-ft.) towering above the west side of the Larch Valley. Mount Temple (11,621-ft.) rises to the east. Sentinel Pass is now visible on the ridge between Mount Temple and Pinnacle Mountain.
As the ascent continues views open to the Minnestimma Lakes, two small ponds nestles in the meadows below the pass. Progress will be slow through the meadows as you are constantly turning around for ever-evolving views of the alpine meadows and small lakes set against a stunning backdrop of the Valley of the Ten Peaks.
Beyond the second lake the trail climbs steeply up scree covered slopes to the windswept pass. From the pass enjoy more breathtaking views of the Valley of the Ten Peaks. To the north vistas extend to the high summits lining the northwest side of exquisite Paradise Valley, another gem in the Banff National Park jewel box. The spires and rugged slopes of the Pinnacle and Temple massifs line the steep valley below the north side of the pass.
An extremely steep trail descends the steep talus slopes on the north side of the pass to Paradise Valley. The trail/route is only recommended for hikers versed with route finding skills and comfortable climbing extremely steep, scree slopes with shifting rock. The route is not recommended when covered with ice and snow. The point-to-point hike requires a second vehicle positioned at the Paradise Valley trailhead. See the Paradise to Moraine Lake via Sentinel Pass for more information.
Elevation Profile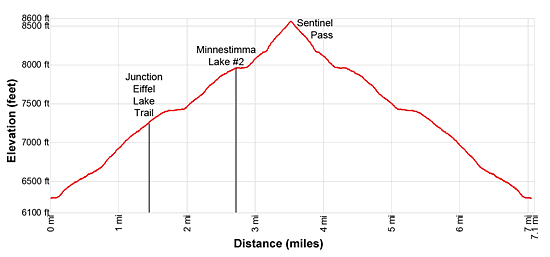 Trail Resources
Trail Detail/Full Description / Trail Photo Gallery / Trail Map
Basecamp(s) Information:
Banff / Lake Louise
Region Information:
The Canadian Rockies
Other Hiking Regions in:
Alberta / British Columbia