Details: Timber Gap
Distance: 4.5 miles (round trip)
Sequoia-Kings Canyon National Park, near Mineral King in California's Southwestern Sierra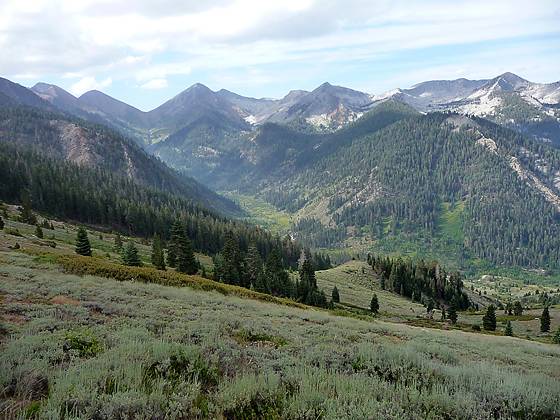 This very steep hike offers great views of the Mineral King Valley and a good workout.
Timber Gap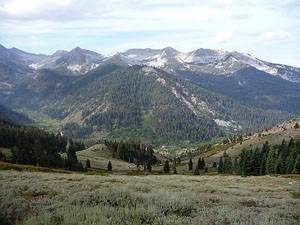 The trail to Timber Gap starts with a steep climb up a brush covered hillside. As the trail ascends enjoy great views south up the East Fork Kaweah River Valley to Vandever Mountain (11,947-ft.) and Farewell Gap. Soon the trail curves east and climbs along the north slopes of the Monarch Creek drainage. At 0.3 miles the trail takes a sharp turn to the left (northwest) and ascends a long switchback. A rock outcropping at the turn provides nice views of a waterfall on Monarch Creek.
Reach a junction at 0.7 miles where the path to Timber Gap splits off to the left (north). The trail to the right heads to Monarch and Crystal Lakes. The trail now climbs 10 steep switchbacks through red fir forest, gaining 950-ft in just over 0.9 miles. Openings in the trees provide every improving views south of the East Fork Kaweah River Valley, Vandever Mountain (11,947-ft.), White Chief Peak (11,159-ft.) and sea of mountains and ridges rising above the south side of the Mineral King Valley.
At the top of the switchbacks (1.6 miles) the grade abates as the trail traverses open brush covered slopes for 0.3 miles along the western flanks of Empire Mountain (11,550-ft.). The area, cleared by frequent winter avalanches, is filled with wildflowers during the height of the summer. Stunning views extend south to the peaks rimming the southern side of the Mineral King and East Fork Kaweah valleys.
At 2.0 miles the trail reenters the timber and climbs the final 200-ft to the aptly named Timber Gap (9,511-ft.), reached 2.25 miles from the trailhead. The Gap is protected from avalanches and covered in red firs. Breaks in the trees offer nice views north to Alta Peak (11,204-ft.) and the summits rising above the Middle Fork Kaweah River valley.
Beyond Timber Gap the trail drops steeply down the Timber Gap Creek drainage to meet Cliff Creek. The trail is used by backpackers headed to Black Rock Pass or the Bearpaw Meadows area. For day hikers Timber Gap is the logical turnaround point.
Elevation Profile
Driving Directions
From Visalia: Follow Highway 198 East for 31.5 miles to the Mineral King Road. (There is a small green sign on the right side of the road that read "Mineral King 25 miles".) Turn right onto the Mineral King Road and follow the narrow, winding road for 23.3 miles to the Timber Gap / Sawtooth parking areas. Parking areas are located on both sides (north and south) of the road. The trailhead is located at the north end of the north parking area. The bathroom is located at the south end of the south lot. There is also a payphone at the southwest end of the north lot.
Trail Resources
Trail Intro / Trail Photo Gallery / Trail Map
Basecamp(s) Information:
Mineral King
Region Information:
California's Southwestern Sierra
Other Hiking Regions in:
California