American Lake
Distance: 6.4 miles
Maroon Bells-Snowmass Wilderness, White River National Forest, near Aspen in Central Colorado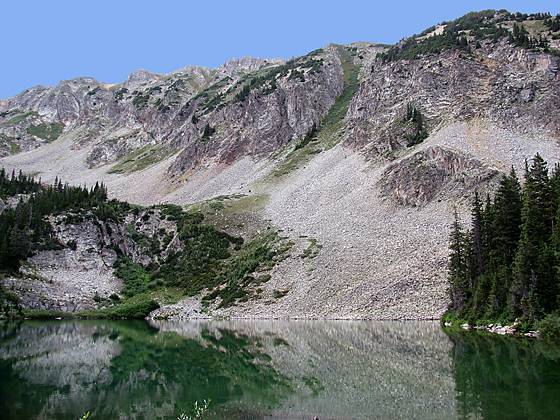 American Lake
This short trail climbs steeply through aspen groves, forests and meadows to a high mountain lake just below the timberline, offering hikers a good workout and a great way to acclimate for some of the Aspen area's more challenging trails.
Distance: 6.4 miles (RT)
Elevation: 9,400-ft. at Trailhead
Maximum elevation - 11,390-ft.
Elevation Gain: 1,990-ft.
Difficulty: moderate-strenuous
Basecamp: Aspen
Region: Central Colorado
Trail Description - American Lake
The American Lake trail ascends steep switchbacks through aspen groves along the north side of a gulch for 1.5 miles before reaching spruce-fir forests where it turns south. From this point the trail alternates between level sections and periodic climbs on easy to moderate grades through forest and wildflower-filled meadows with limited views of the surrounding peaks.
After two miles the trail crosses a small ridge and heads west. Approximately 0.5 miles before the lake the trail emerges into a wildflower oasis, surrounded by scree. It then briefly reenters the forest before crossing another large scree field with sounds of a waterfall just ahead and to the left. American Lake, a small emerald green expanse set amid trees with a granite ridge rising above the north shore, is just beyond.
Elevation Profile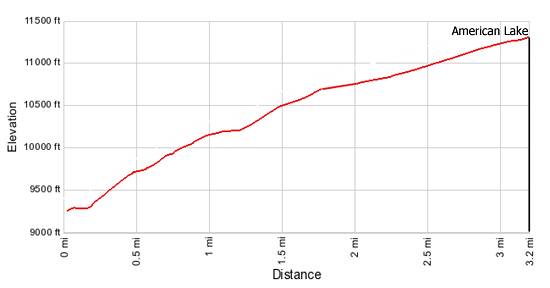 Driving Directions
Driving Directions from Aspen: Drive 0.5 miles west of Aspen on Highway 82 to the roundabout. Go around the roundabout and turn right on Castle Creek Road. Drive 10 miles on the Castle Creek Road and then turn right into the American Lake parking lot, located across from the large lodge on the east side of the road.
Trail Resources