Hell Roaring
Distance: 5.4 miles
Maroon Bells-Snowmass Wilderness, White River National Forest, near Aspen in Central Colorado
This lightly used trail ascends a ridge with nice views of Mount Daly and Capitol Peak then climbs through pretty alpine meadows to Hell Roaring Divide, where views encompass the peaks and ridges of the Avalanche Creek drainage and beyond.
Distance: 5.4 miles (RT)
Elevation: 9,970-ft. at Trailhead
Maximum elevation - 12,080-ft.
Elevation Gain: 2,110-ft.
Difficulty: moderate
Basecamp: Aspen
Region: Central Colorado
Trail Description - Hell Roaring
From the Hell Roaring Trailhead go through the green gate and follow the trail as it ascends to the top of the ridge on a moderate grade through spruce-fir forest. In 0.2 miles the trail reaches a trail junction. The path to the right leads to Hardscrabble Lake in 0.25 miles. The Hell Roaring trail continues straight.
As the trail climbs along the top of the ridge periodic openings in the trees provide nice views of Mount Daly and Capitol Peak (14,130) rising above the head of the Capitol Creek valley to the south.
Three quarters of a mile from the trailhead the path dips into and out of a small saddle on the ridge. Just as the trail begins climbing out of the saddle reach the junction with the trail to Williams Lake, heading right. The side trip to Williams Lake adds 1.5 miles (RT) to the hike.
Beyond the junction the grade steepens as the trail continues ascending the ridge. Intermittent clearing offer views extending south toward to Capitol Peak and north to timber lined shores of Williams Lake.
At 2.0 miles the trees give way to pretty alpine meadows and the grade moderates as the path climbs switchbacks to the top of the ridge, reaching Hell Roaring Divide at 2.7 miles. From the divide enjoy views of Mt. Sopris to the north and the peaks and ridges lining the Avalanche Creek drainage to the west.
This is the turnaround point for the day hike. The Hell Roaring trail continues over the divide and intersects the Avalanche Creek Trail, losing over 3,700-ft. in 4.3 miles (7.0 miles from the trailhead).
A 4WD vehicle is required to reach the trailhead. Hikers driving passenger cars need to add 4.5 miles (RT) to the hiking distances.
Elevation Profile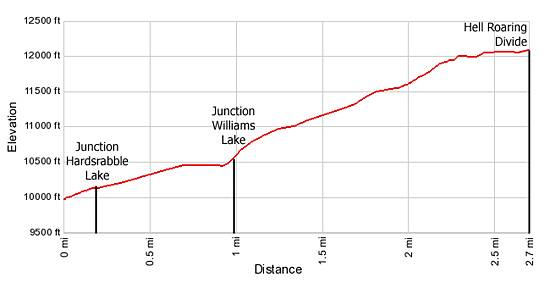 Driving Directions
Driving Directions from Aspen: Drive 14 miles west of Aspen on Highway 82 to Old Snowmass and turn left onto Snowmass Creek Road (just past to the Conoco Gas station on the south side of the highway). Continue 2 miles to the "T" intersection, take a right and travel 7.5 miles until the pavement ends. Follow the dirt road about 3 miles to the trailhead. The last 2.25 miles is on a 4WD road. Hikers without a 4WD need to park in the BLM meadow on the right approximately 2.25 miles below the trailhead. The road is slick when wet.
Trail Resources