This lightly traveled trail features great views of the Maroon Bells and Pyramid Peak, traverses pretty meadows and ends at a scenic pass with sweeping views of the colorful cirque surrounding the Willow Lake basin.
See Trail Detail/Full Description
Distance: 3.4 miles (round trip) to Crater Lake
9.7 miles (round trip) to Willow Pass
12.2 miles (round trip) to Willow Lake

Elevation: 9,580-ft. at Trailhead
10,140-ft. at Crater Lake
12,578-ft. at Willow Pass
11,795-ft. at Willow Lake

Elevation Gain: 560-ft. to Crater Lake
2,998-ft. to Willow Pass
3,781-ft. to Willow Lake

Difficulty: strenuous
More Hikes in:
Aspen / Central Colorado
Why Hike Willow Pass and Lake
The hikes to Willow Pass and Buckskin Pass travel the same trail for the first 3.75 miles before splitting and climbing to the two respective passes, just 0.7 miles apart as the crow flies. If you have limited time and it's your first trip to the Maroon Bells hike to Buckskin Pass first. The stunning views from Buckskin Pass are far superior to the views from Willow Pass. Of course everything is relative in the Maroon Bells. The whole area is amazing.
So why hike to Willow Pass? On a beautiful day extending the hike to Buckskin with a visit to Willow Pass is a great option. Combining the two hikes adds 1.9 miles and 800-ft of elevation gain for an 11.3 mile hike.
Beyond the trail split with Buckskin Pass, the lightly trafficked trail to Willow Pass travels through a pretty basin and then climbs to the high pass with fine views of the colorful cirque surrounding the Willow Lake Basin. Willow Lake, along with a handful of small ponds, lie nestled in the alpine meadows beneath the serrated profile of the Sievers Mountains. Colorful Peak 13336 towers above the valley to the north. To the southeast are great views of the Maroon Bells and a slice of the Pyramid Peak massif.
The second reason to hike to Willow Pass is to visit Willow Lake and the secluded Willow Lake basin. Relatively few people hike and/or camp in this basin, so you are likely to experience a level of solitude not found around other lakes in the Maroon Bells Wilderness. The basin is a fun place to explore, fishing in the lake is good and so are the views, especially if you climb to ridge to the south of the lake.
So if you have the time or are looking for someplace different to visit in the Aspen area, take a hike to Willow Pass and Willow Lake. With a car drop or second vehicle the hike to Willow Pass can be combined with the East Snowmass trail to create a good, off-the-beaten-path overnight backpack.
Another option is a 3-day loop backpack that starts by hiking up Snowmass Creek to Snowmass Lake. On the second day, hike over Buckskin and Willow Passes to Willow Lake. On the final day climb over East Snowmass Pass and then descend the East Snowmass Valley. At the East Snowmass trailhead a short walk along a dirt road leads back to the Snowmass Creek trailhead.
Elevation Profile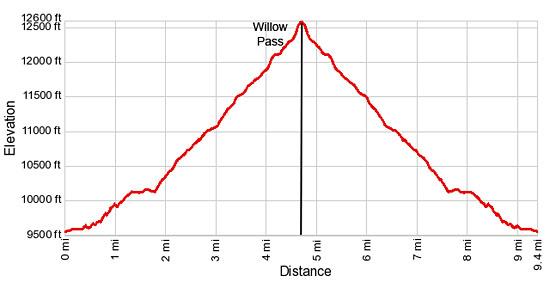 Buy the Book

This opinionated guide includes all the hikes in the Aspen, Buena Vista, Crested Butte, Marble and Leadville sections of the website plus info on local services and nearby attractions.
Trail Resources
Trail Detail/Full Description / Trail Photo Gallery / Trail Map
Basecamp(s) Information:
Aspen
Region Information:
Central Colorado
Other Hiking Regions in:
Colorado