Bear Lake
Distance: 11.0 miles (round trip)
Collegiate Peaks Wilderness, San Isabel National Forest, near Buena Vista in Central Colorado
Great views of three Colorado 14ers; Mt. Harvard, Mt. Columbia and Mt. Yale, are the rewards of this hike up the scenic Horn Fork basin to Bear Lake, an alpine jewel nestled in a rugged bowl beneath the Continental Divide in the Collegiate Peaks Wilderness.
See Trail Detail/Full Description
Distance: 11.0 miles (round trip) to Bear Lake

Elevation: 9,890-ft. at Trailhead
12,410-ft. at Bear Lake

Elevation Gain: 2,520-ft. to Bear Lake

Difficulty: moderate-strenuous
More Hikes in:
Buena Vista / Central Colorado
Why Hike Bear Lake
This excellent hike travels up the scenic Horn Fork Valley to beautiful Bear Lake, cradled in a stark, rocky shelf beneath a rugged ridge along the Continental Divide. From the lake enjoy stunning views of the area's 14ers -- Mt. Harvard (14,420-ft.), Mr. Columbia (14,073-ft.) and Mt. Yale (14,196-ft.).
The trail initially travels through forest up the North Cottonwood Creek Valley before turning north into the Horn Fork. As the trail gains elevation intermittent views open to Mt. Yale to the south and Mt. Columbia towering over the east side of the valley.
Near the head of the valley the trail breaks from the trees and views open to Mt. Harvard and the peak and ridges ringing the head of the valley. Behind you are grand views of Mt. Yale and, in the distance, Mt. Princeton (14,197-ft.).
At the head of the valley the trail crests a high bench and curves to the west, passing the trail climbing to Mt. Harvard. A short climb leads to Bear Lake (12,374-ft.), a starkly beautiful alpine jewel nestled in a rocky bowl beneath the valley's rugged west ridge. In addition to the panoramic views of the nearby 14,000-ft peaks, the lake features good fishing for cutthroat trout.
This trail is popular with hikers climbing to Mt. Harvard, so don't expect solitude. Parties wishing to overnight near the lake will find the best campsites in the trees a mile and a half below the lake. These campsites are typically crowded with people who spend the night in the Horn Fork basin and then summit Mt Harvard on the second day.
Elevation Profile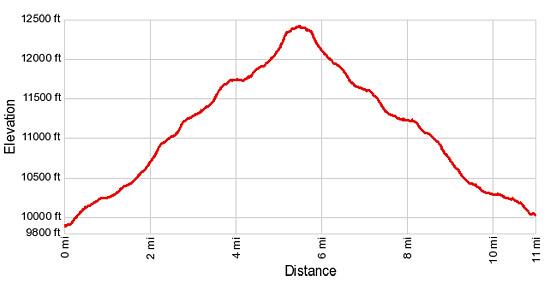 Buy the Book

This opinionated guide includes all the hikes in the Aspen, Buena Vista, Crested Butte, Marble and Leadville sections of the website plus info on local services and nearby attractions.
Trail Resources
Trail Detail/Full Description / Trail Photo Gallery / Trail Map
Basecamp(s) Information:
Buena Vista
Region Information:
Central Colorado
Other Hiking Regions in:
Colorado