Up-close view of the Le Tour Glacier along with terrific views of Mont Blanc, the Aiguille Rouges, Aiguille du Chardonnet and Aiguille Verte are the rewards of this steep hiking climbing to the Albert 1st Refuge. Visit the Col de Balme on the return trip if time and energy allow.
See Trail Detail/Full Description
Distance: 6.4 miles (round trip) to Albert Premier Refuge
6.6 miles (round trip) to Col de Balme

Elevation: 6,080-ft. at Trailhead
8,930-ft. at Albert Premier Refuge
8,930-ft. at Col de Balme

Elevation Gain: 2,850-ft. to Albert Premier Refuge
2,850-ft. to Col de Balme

Difficulty: strenuous
More Hikes in:
Chamonix / The French Alps
Why Hike Albert Premier Refuge and the Col de Balme
The Albert 1st Refuge, sitting atop a rock ledge, features amazing views of Aiguille du Chardonnet towering above the Le Tour Glacier. The trip to the hut starts in hamlet of Le Tour and utilizes the Telecabine de Charamillon – Balme to whisk you over 1,200-ft. to the start of the hike.
The scenic walk to the hut feature fine views down the Chamonix Valley to Mont Blanc. The Aiguille Rouges dominate the view to the west/southwest. After 1.75 miles the trail crosses the ridge extending from Bec du Picheu and enters the Le Tour Valley where the Le Tour Glacier and the Aiguille du Chardonnet are the stars of the show.
To reach the refuge the trail climbs to and then ascends along the moraine on the north side of the glacier. Here we have up close views of the fractured surface and deep crevasses of the glacier's tongue and snout.
Walk a short distance beyond the Refuge and find a front row seat to view the glacier cradled in a bowl formed by the Aiguille du Chardonnet, Grande Fourche and Aiguille du Tour. Aiguille Verte rises in the distance to the south.
Extend the hike by visiting the Col de Balme (7,188-ft.), located on the French/Swiss border, on the return leg of the hike. This segment features more great views of Mont Blanc and the Aiguille Rouges. From the Col views extend northeast to the high peaks of the Bernese Oberland.
Elevation Profile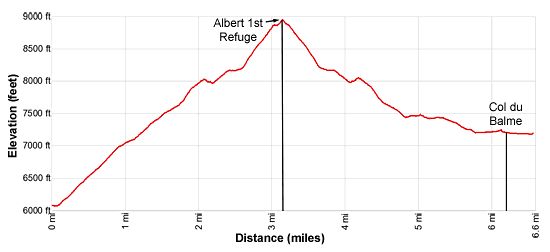 Trail Resources
Trail Detail/Full Description / Trail Photo Gallery / Trail Map
Basecamp(s) Information:
Chamonix
Region Information:
The French Alps
Other Hiking Regions in:
France