The best hike in Bryce, the Figure 8 Loop, combines the Queens Garden, Peek-a-Boo Loop and the Navajo trails for a memorable day with up-close encounters and epic views of an amazing variety of hoodoos, pinnacles and fins eroded into weird and wonderful formations.
See Trail Detail/Full Description
Distance: 1.8 miles (one way) to Queens Garden
4.8 miles (one way) to Peek-a-boo Loop
6.4 miles (loop) to Navajo Trail

Elevation: 8,000-ft. at Trailhead
7,490-ft. at Queens Garden
7,800-ft. at Peek-a-boo Loop
8,000-ft. at Navajo Trail

Elevation Gain: -510-ft. to Queens Garden
1,030-ft. to Peek-a-boo Loop
600-ft. to Navajo Trail

Difficulty: moderate-strenuous
More Hikes in:
Bryce / South Central Utah
Why Hike Figure 8 – Queens Garden, Peek-a-boo & Navajo Loop
If you only have time for one hike at Bryce, make it the Figure 8 Loop, which combines Queens Garden, Peek-a-boo Loop and Navajo trails for an extraordinary day walking through a maze of multi-hued rock formations eroded into fantastical shapes. Overlooks along the rim and ridges on route feature jaw-dropping views of seas of colorful hoodoos, pinnacles and fins. Queen Victoria, Fairy Castle, the Wall of Windows, the Cathedral, Thors Hammer and the Three Gossips are some of the iconic formation you'll pass along the way.
Level ground along this journey is in short supply. You will first descend from the rim and then cross numerous ridges and canyons as the trail winds its way through a labyrinth of rock formations. In places the trail passes through short tunnels chiseled into fins. As with all canyon hikes the final leg of the trail is all uphill.
The hard pack trail is well engineered to facilitate the ascents and descents along the trail. Well marked intersections will help you stay on track.
Allow more time than the mileage implies. You will stop often along the hike to marvel at the incredible rock formations and epic views. Large portions of this hike are exposed to the sun, making it a very hot journey in the summer. Be sure to take plenty of water and wear a hat. Get an early start to beat the crowds and the worst of the mid-day heat.
Elevation Profile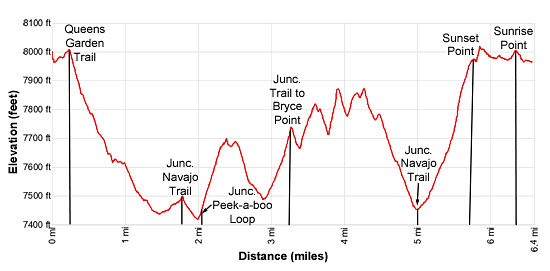 Trail Resources
Trail Detail/Full Description / Trail Photo Gallery / Trail Map
Basecamp(s) Information:
Bryce
Region Information:
South Central Utah
Other Hiking Regions in:
Utah