The Wall of Windows, the Cathedral and Fairy Castle along with terrific views of the Bryce Amphitheater and rock formation along Peek-a-boo Canyon are the rewards for completing this scenic loop trail. A steep descent and ascent from Bryce Point are required to reach to the loop.
See Trail Detail/Full Description
Distance: 5.0 miles (loop) to Peek-a-boo Loop

Elevation: 8,300-ft. at Trailhead
7,440-ft. at Peek-a-boo Loop

Elevation Gain: 1,600-ft. to Peek-a-boo Loop

Difficulty: moderate-strenuous
More Hikes in:
Bryce / South Central Utah
Why Hike Peek-a-boo Loop
Bryce Point features stunning views of the Bryce Amphitheater and is also the starting point for a connector trail dropping down to the Peek-a-boo Loop. The scenic loop enjoys wonderful views of photogenic hoodoos, fins and spires in Peek-a-boo and Bryce Canyons and passes impressive rock formations such as the Wall of Windows, the Cathedral and Fairy Castle.
This is a strenuous route, constantly ascending or descending as it crosses numerous ridges and canyons. The reward for all this hard work is the views of the amazing rock formation along the route. Since this trail is rated as more difficult than the nearby Queens Garden and Navajo trail it is also less crowded.
Horses are permitted along the loop, which some hikers may not like. I've never minded getting off the trail for horse parties. There is always some interesting rock formation to admire as you wait for the horses to go by.
The hike is exposed to the sun and can get quite toasty during the summer. Be sure to carry plenty of water and get an early start to beat the heat of the day.
Before or after the hike be sure to check out the fabulous views of the Bryce Amphitheater from Bryce point. The views are particularly stunning early in the morning as the first light of the day hits the colorful hoodoos.
Elevation Profile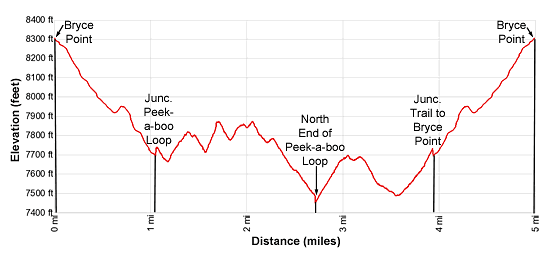 Trail Resources
Trail Detail/Full Description / Trail Photo Gallery / Trail Map
Basecamp(s) Information:
Bryce
Region Information:
South Central Utah
Other Hiking Regions in:
Utah