Cohab Canyon to Cassidy Arch via the Fryingpan
Distance: 6.0 - 8.6 miles (round trip)
Fruita District, Capitol Reef National Park, near Capitol Reef in South Central Utah
Terrific panoramas atop Waterpocket Fold, a scenic canyon and a photogenic arch are the highlights of this amazing, albeit strenuous hike through a rugged landscape that incorporates portions of the Cohab Canyon, Fryingpan and Cassidy Arch trails.
See Trail Detail/Full Description
Distance: 8.6 miles (round trip) to Cobab-Cassidy Arch

Elevation: 5,480-ft. at Trailhead
6,490-ft. at Cobab-Cassidy Arch

Elevation Gain: 1,600-ft. to Cobab-Cassidy Arch

Difficulty: strenuous
More Hikes in:
Capitol Reef / South Central Utah
Why Hike Cohab Canyon to Cassidy Arch via the Fryingpan
This hike combines portions of the Cohab Canyon and Cassidy Arch trails with the Fryingpan Trail for a memorable day hike with incredible views. The Cohab Canyon portion of the hike starts with a short, strenuous climb up the Chinle slopes near Furita to a hanging canyon of striped terracotta and beige Wingate walls eroded into interesting shapes and pockmarked with holes. A relatively easy one mile hike through the canyon leads to the Fryingpan Trail.
After climbing out of Cohab Canyon, the Fryingpan trail travels through the rugged, corrugated country atop Waterpocket Fold, climbing to two scenic ridgetops with panoramic views of the incredible sandstone fins, domes and monoliths sitting atop multi-hued cliffs in the heart of Capitol Reef. The amazing views are not limited to the ridges but abound along almost every step of the trail as it travels through a colorful, intricately sculpted formations set amid a contorted landscape.
The final segment of the hike follows a segment of the Cassidy trail across a slickrock expanse to an overlook above Cassidy Arch. The arch, named after the outlaw Butch Cassidy, dramatically spans a deep chasm.
The hike can be completed by descending the Cassidy Arch trail to the Grand Wash trailhead for a point-to-point hike or by retracing your steps to the Cohab Canyon trailhead.
Don't underestimate the strenuous nature of this trail. There are plenty of ups and downs making it more tiring than the net elevation gain implies. Given its length and difficulty, the trail is best hiked in the Spring or Fall when temperatures are cooler. Remember to take plenty of water, you will find none along the trail.
Note: Rock cairns mark much of the route as it twists around low knolls, crosses drainages and navigates around a variety of obstacles. It is essential to pay attention to the rock cairns to stay on track. If you are not experienced traveling on cairned trails, try a few other hikes in the park first before tackling this outing.
Elevation Profile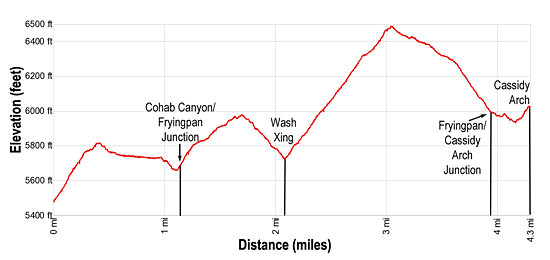 Trail Resources
Trail Detail/Full Description / Trail Photo Gallery / Trail Map
Basecamp(s) Information:
Capitol Reef
Region Information:
South Central Utah
Other Hiking Regions in:
Utah