Upper Muley Twist
Distance: 9.5 - 14.5 miles (loop)
Waterpocket Fold District, Capitol Reef National Park, near Capitol Reef in South Central Utah
This amazing hike in Capitol Reef travels through a scenic canyon with eight arches and impressive rock formation and then climbs to and traverses the ridge atop Waterpocket Fold with panoramic views of the colorful ridge and surrounding area.
See Trail Detail/Full Description
Distance: 9.5 miles (loop) to Upper Muley Twist

Elevation: 5,850-ft. at Trailhead
6,670-ft. at Upper Muley Twist

Elevation Gain: 820-ft. to Upper Muley Twist

Difficulty: moderate-strenuous
More Hikes in:
Capitol Reef / South Central Utah
Why Hike Upper Muley Twist
Upper Muley Twist, my favorite hike in Capitol Reef, travels through a fascinating geological area along Waterpocket Fold, a sandstone ridge of steeply tilted rock layers called a Monocline. Here exposed layers of white Navajo and red Wingate sandstone were tilted by the uplifting and folding of the earth's crust and then sculpted by wind and water into rugged, multihued ridges, narrow canyons and distinctive rock formations.
The lollipop loop hike starts by traveling up colorful Upper Muley Twist Canyon, cut into the west side of the Fold. Along the bottom and west side of the canyon the Wingate layer, stripped of its protective Kayenta cap rock, is eroded into photogenic formations that include impressive knobs and arches.
At the north end of the loop the trail turns east and ascends through layers of Wingate and then Navajo sandstone to the ridge atop Waterpocket Fold. Here panoramic views unfold of the Strike Valley, Tarantula Mesa, Swap Mesa and the Henry Mountains to the east and a sea of Wingate formations to the west. The route now heads south along the Fold's Navajo sandstone spine, accompanied by nonstop views. After walking 2.5 miles atop the ridge the route descends back to the canyon floor to complete the loop.
Note: This hike follows a route, marked with cairns and signs. Observant hikers should not have any problem staying on track. For safety, carry a map. The route requires scaling slickrock ramps and some minor scrambling. The trail description for this hike assumes you are starting from the 4WD trailhead. If you start from the 2WD trailhead the hike is 2.5 miles longer (one-way) or 5.0 miles longer (round-trip).
Elevation Profile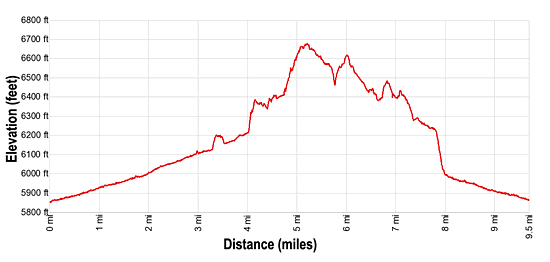 Trail Resources
Trail Detail/Full Description / Trail Photo Gallery / Trail Map
Basecamp(s) Information:
Capitol Reef
Region Information:
South Central Utah
Other Hiking Regions in:
Utah