Seven amazing arches set amid a landscape of weird and wonderful sandstone fins, spires and knobs are the rewards for hiking the Devils Garden Trail, my favorite trail in Arches National Park.
See Trail Detail/Full Description
Distance: 1.8 miles (round trip) to Landscape Arch
4.2 miles (round trip) to Double O Arch
7.7 miles (loop) to Dark Angel/Primitive Loop

Elevation: 5,220-ft. at Trailhead
5,240-ft. at Landscape Arch
5,510-ft. at Double O Arch
5,500-ft. at Dark Angel/Primitive Loop

Elevation Gain: 20-ft. to Landscape Arch
290-ft. to Double O Arch
284-ft. to Dark Angel/Primitive Loop

Difficulty: moderate
More Hikes in:
Arches / Moab / Southeast Utah
Why Hike Devil's Garden
Devils Garden is my favorite hike in Arches National Park. The trail visits seven interesting arches as it travels through a landscape of weird and wonderful sandstone fins, spires and knobs. The first 0.9 miles follows a wide, well grade path to graceful Landscape Arch, passing a side trail leading to Pine Tree and Tunnel Arches. Landscape Arch, one of the world's longest rock spans, is a very popular destination in the park and is often quite crowded.
Beyond Landscape Arch the crowds thin as the trail becomes a little more difficult, climbing a slickrock ramp between two sandstone fins to the junction of a spur trail to Navajo and Partition Arches. Just 1.2 miles beyond is beautiful Double O Arch. Most people turn around at Double O, returning to the trailhead.
Hikers looking for a longer and more challenging day will want to visit Dark Angel and hike the Primitive Trail. Dark Angel is a large sandstone spire with great views less than a half mile to the northwest of Double O. The Primitive Trail follows a cairned route through massive sandstone fins, takes a detour to visit Private Arch, travels along the Fin Canyon wash and then traverses open desert back to the main Devils Garden trail.
On the Dark Angel and Primitive Trail you will experience a degree of solitude not found elsewhere in Arches National Park. While you may see other hiking parties along the trails, for the most part you will have the trails to yourself.
A sign at the start of the Primitive Trail warns of "difficult hiking". The trail should not present problems for experienced canyon hikers. It does require parties to be able to follow a cairned route and scramble up and down slickrock friction pitches with some exposure.
Do not attempt the Primitive Trail during wet or icy conditions. The trail is best hiked in the spring and fall when temperatures are milder. There is no shade along parts of the route, making this a brutally hot hike in the summer when temperatures can soar above 100 degrees F.
Be sure to carry plenty of water and get an early start to avoid the worst of the mid-day sun and beat the crowds. During the high seasons the parking area fills early in the day.
Elevation Profile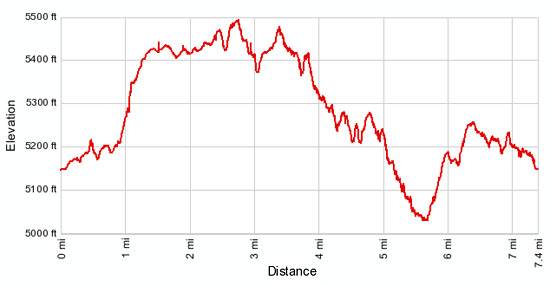 Trail Resources
Trail Detail/Full Description / Trail Photo Gallery / Trail Map
Basecamp(s) Information:
Arches / Moab
Region Information:
Southeast Utah
Other Hiking Regions in:
Utah