An off-the-beaten-path hike in the Klondike Bluffs area of Arches National Park leads through a secluded valley ringed by a wonderland of deep-red rock formations before reaching Tower Arch, an immense span with lovely views of the La Sal Mountains.
See Trail Detail/Full Description
Distance: 2.4 miles (round trip) to Tower Arch

Elevation: 5,070-ft. at Trailhead
5,255-ft. at Tower Arch

Elevation Gain: 305-ft. to Tower Arch

Difficulty: moderate
More Hikes in:
Arches / Moab / Southeast Utah
Why Hike Tower Arch
The hike to Tower Arch, located in the seldom visited Klondike Bluffs area of Arches National Park, offers a level of solitude not found on other hikes in the park. It is also a great hike visiting a beautiful area of deep-red rock formations and ending at massive Tower Arch, the sixth widest span in the park.
The trail starts with a short, steep climb up a rocky hillside and then descends through a valley ringed with wonderful rock formation. Near the head of the valley is the Marching Men, a photogenic formation of four rock spires set atop an eroded fin.
Another short ascent up a sandy hillside leads to a scenic area of fins and eroded sandstone formations where you will find Parallel Arch and Tower Arch. Climb up into Tower Arch's 92-foot wide span and enjoy great views of the La Sal Mountains.
The trailhead is located 8.2 miles down unpaved roads that may be rough and sandy in places. The route is impassable when wet. Stop at the Visitor Center to learn about current road conditions before setting out.
Elevation Profile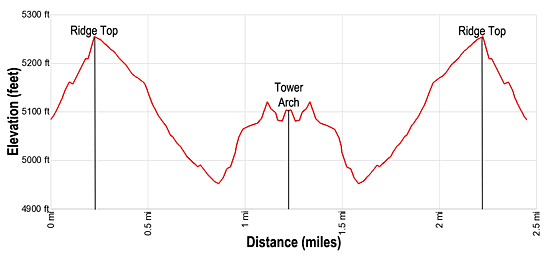 Trail Resources
Trail Detail/Full Description / Trail Photo Gallery / Trail Map
Basecamp(s) Information:
Arches / Moab
Region Information:
Southeast Utah
Other Hiking Regions in:
Utah