This trail on the west (back) side of the Teton Range climbs steeply to the scenic Teton Shelf with fine views of the granite cliffs towering above the shelf, the peaks rising above Alaska Basin and the summits of Grand, Middle and South Tetons.
See Trail Detail/Full Description
Distance: 10.0 miles (round trip) to Devils Staircase

Elevation: 6,955-ft. at Trailhead
9,060-ft. at Devils Staircase

Elevation Gain: 2,105-ft. to Devils Staircase

Difficulty: moderate-strenuous
More Hikes in:
Driggs / Jackson Hole / The Tetons
Why Hike Devils Staircase
The trail to Devil's Staircase, located on the west side of the Teton Range, begins with a lovely, easy stroll up the South Fork of Teton Canyon. After 1.7 miles the trail changes character, climbing steeply up the aptly names Devil's Staircase, gaining over 1,000-ft in a mile.
The ascent leads to the stunningly beautiful Teton Shelf where sheer granite cliffs tower 1,500-2,000-ft. above the broad, meadow-clad bench awash in wildflowers. Views stretch south to a massive cirque, anchored by Mount Buck, rimming Alaska Basin. The moderate ascent along the bench soon reveals fine views of the summits of Grand, Middle and South Tetons rising beyond ridge extending south from Hurricane Pass.
Walk as far as time and energy allow along the shelf and then find the perfect spot for a picnic lunch to enjoy the views before retracing your steps back to the trailhead.
The Devil's Staircase trail is reached from Driggs, Idaho where roads head east, back into Wyoming and the trailhead for South Teton Canyon. Reach Driggs from Jackson, WY by traveling west over Teton Pass. The trails in this area are popular with the locals and busy on the weekends.
Elevation Profile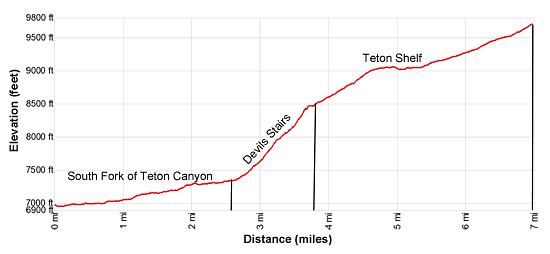 Trail Resources
Trail Detail/Full Description / Trail Photo Gallery / Trail Map
Basecamp(s) Information:
Driggs / Jackson Hole
Region Information:
The Tetons
Other Hiking Regions in:
Wyoming