Cascade Canyon
Distance: 3.4 - 9.3 miles (round trip)
Grand Teton National Park, near Grand Teton NP in The Tetons
The hike up Cascade Canyon features a scenic boat ride, beautiful waterfall and nice overlook with views of Jenny Lake, surrounding peaks and the Gros Ventre Mountains. Beyond the viewpoint the hike gently ascends gorgeous Cascade Canyon beneath towering peaks.
See Trail Detail/Full Description
Distance: 9.3 miles (round trip) to Forks

Elevation: 6,800-ft. at Trailhead
7,860-ft. at Forks

Elevation Gain: 1,060-ft. to Forks

Difficulty: moderate
More Hikes in:
Grand Teton NP / Jackson Hole / The Tetons
Why Hike Cascade Canyon
The hike to the Forks of Cascade Canyon starts with a scenic boat ride (fee required) across beautiful Jenny Lake. In short order the trail ascends to Hidden Falls, a thundering cascade dropping 200-ft. down a series of rocky ledges, and then climbs to Inspiration Point with fine views of the lake and the Gros Ventre Mountains to the east.
Beyond Inspiration Falls the trail gently ascends lovely Cascade Canyon, rimmed by a rugged ridge to the north and a trio of the highest peaks in the park, Teewinot Mountain (12,235-ft.), Mount Owen (12,927-ft.) and Grand Teton (13,770-ft.), to the south. Rock slides and avalanche chutes offer openings along the timbered canyon to view the high peaks, rugged crags and waterfalls along the way. Lovely Cascade Creek flows down the valley floor, at times meandering through willow thickets and in other spots tumbling over rocks and boulders. It's not unusual to see moose grazing in the willows or wading across the small ponds and shallows along the creek.
Travel as far up the canyon as time and energy permit. A 3.4 mile round-trip (RT) walk takes you to the first rock slide where views open to Teewinot Mountain, Mount Owen and the summit of Grand Teton along with the summits at the head of the valley. Hike 4.6 miles (RT) to reach Perch's Pond, where the high peaks form a beautiful backdrop for a lovely little pond – the perfect spot for a picnic. At 7.5 miles (RT) you see Grand Teton and Mount Owen towering above a beautiful waterfall tumbling down a rocky cleft beneath Valhalla Canyon.
The Forks of Cascade Canyon at 9.3 miles (RT), where the canyon splits, is the end of trail for most parties. Those with extra energy will want to extend the hike to 10.2 miles (RT), by hiking a short distance up the North Fork toward Lake Solitude for terrific views of the Cathedral Group -- Teewinot Mountain, Mount Owen and Grand Teton.
The initial section of this hike is very crowded. Beyond Inspiration Point the crowds thin. I recommend getting an early start to avoid the crowds and all allow ample time for wandering up the canyon. It is truly a lovely place where hopefully you will even see a moose (or two)! My record is seven moose on one hike up Cascade Canyon to the Forks.
Elevation Profile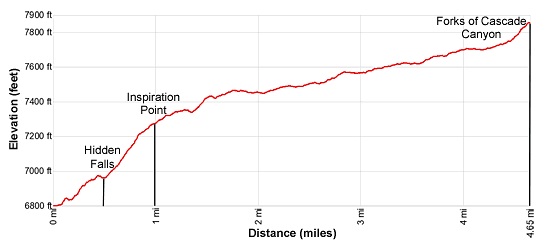 Trail Resources
Trail Detail/Full Description / Trail Photo Gallery / Trail Map
Basecamp(s) Information:
Grand Teton NP / Jackson Hole
Region Information:
The Tetons
Other Hiking Regions in:
Wyoming