Lake Louise and its massive cirque are the stars of this hike highlighting the jaw-dropping scenery of the Lake Louise Valley. The awe inspiring overlook at the end of the hike is surrounded by impressive peaks and glaciers displaying Mother Nature's raw beauty and power.
See Trail Detail/Full Description
Distance: 8.7 miles (round trip) to Plain of the Six Glaciers Viewpoint

Elevation: 5,720-ft. at Trailhead
7,490-ft. at Plain of the Six Glaciers Viewpoint

Elevation Gain: 1,770-ft. to Plain of the Six Glaciers Viewpoint

Difficulty: moderate-strenuous
More Hikes in:
Banff / Lake Louise / The Canadian Rockies
Why Hike Plain of the Six Glaciers
The goal of this popular hike is a magnificent overlook at the head of the massive cirque surrounding the Lake Louise Valley. The hike starts at the Chateau Lake Louise, traverses the northwest shore of the lake and then climbs through forest. After 2.4 miles fine views open to Mount Victoria (11,362-ft.), the Victoria Glacier, Mount Lefroy (11,227-ft.), the Mitre (9,476-ft.) and the Lefroy Glacier. Below the trail, the moraines and gravel debris of the receding Victoria Glacier fill the valley floor.
Enjoy ever-improving views of the high peaks and glaciers as the trail continues to climb toward the head of the valley. At 3.6 miles reach a rest area and the Plain of the Six Glaciers Tea House. Beyond the tea house ascend through rugged terrain and then along a crest of a moraine to the breathtaking overlook at the base of Mount Victoria.
Here you are standing below the sheer, glacier-clad cliffs of Mount Victoria. Waterfalls fed by glacier meltwater spill down the steep walls. Mount Lefroy soars above the valley to the west. Mount Collier rises above the rugged slopes to the northwest. The Victoria Glacier flows motionlessly down the slopes between Mount Lefroy and Mount Victoria to the valley floor.
Keep in mind that the area around the foot of Lake Louise and the Shoreline Trail are very crowded. Beyond the head of the lake you will start to lose the crowds. That being said this is a very popular and busy trail. Your best bet for avoiding the hoards is to get an early start.
Elevation Profile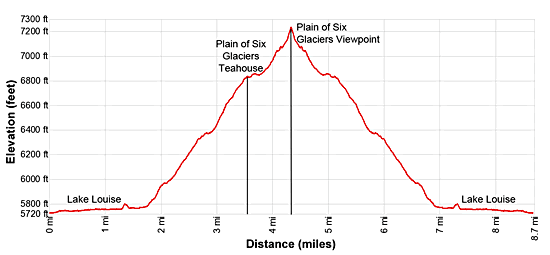 Trail Resources
Trail Detail/Full Description / Trail Photo Gallery / Trail Map
Basecamp(s) Information:
Banff / Lake Louise
Region Information:
The Canadian Rockies
Other Hiking Regions in:
Alberta / British Columbia