Memorable backpack over Gunsight and Lincoln Passes travels by gorgeous Gunsight Lake and Lake Ellen Wilson set amid towering peaks adorn with glaciers and waterfalls. Wildflowers and wildlife add to the hike's delights.
See Trail Detail/Full Description
Distance: 6.0 miles (one way) to Gunsight Lake
13.2 miles (one way) to Sperry Chalet area
19.4 miles (one way) to Gunsight Pass Trailhead

Elevation: 3,220-ft. at Trailhead
5,351-ft. at Gunsight Lake
7,050-ft. at Sperry Chalet area
6,550-ft. at Gunsight Pass Trailhead

Elevation Gain: 706-ft. to Gunsight Lake
3,190-ft. to Sperry Chalet area
-3,360-ft. to Gunsight Pass Trailhead

Difficulty: strenuous
More Hikes in:
St Mary / West Glacier / Glacier Natl Park, MT
Why Hike Gunsight Pass
One of the quintessential backpacks in Glacier National Park, the Gunsight Pass trail features soaring peaks, glaciers, stunning lakes, high passes, meadows awash in wildflowers and wildlife. The trip is best done as a two to three day backpack but some extremely fit, well acclimated hikers finish the trail in a day.
Permits are difficult to secure due to high demand and a limited number of permits. Persistence and flexibility pay off. Other options include hiking over the pass as part of a stay in the Sperry Chalet (currently closed) or sampling the trail on a day hike to Gunsight Lake.
Be advised that the section of the trail between the Jackson Glacier Overlook and Gunsight Lake are quite lush with waist to thigh high vegetation. Make plenty of noise when hiking so you don't inadvertently stumble upon a bear.
Snow fields linger long into the season around Gunsight Pass. The steep slopes around the pass compound the problem, at time requiring parties to carry ice axes for safety. Before setting out, check on current conditions at one of Glacier's visitor centers.
This is a point-to-point hike that requires the use of the Glacier Shuttle Bus or a car shuttle. Check the bus schedule and plan accordingly.
Elevation: 5,310-ft. at Trailhead at Jackson Glacier Overlook
4,645-ft. at Reynolds Creek Crossing
6,946-ft. at Gunsight Pass
6,050-ft. at Lake Ellen Wilson
7,050-ft. at Lincoln Pass
3,220-ft. at Gunsight Pass Trailhead near Lake McDonald Lodge
Elevation Profile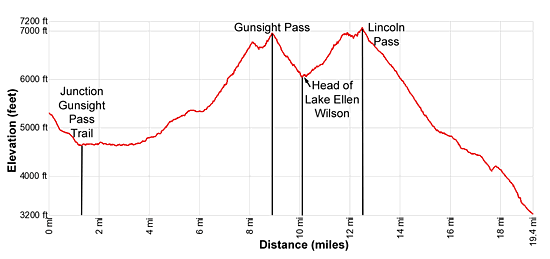 Trail Resources
Trail Detail/Full Description / Trail Photo Gallery / Trail Map
Basecamp(s) Information:
St Mary / West Glacier
Region Information:
Glacier Natl Park, MT
Other Hiking Regions in:
Montana