Pueblo Alto
Distance: 3.8 - 6.0 miles (round trip)
Chaco Culture National Historic Park, near Chaco Canyon in Northwest New Mexico
This popular hike visits spectacular overlooks with views of Pueblo Bonito, Chetro Ketl, and Kin Kletso, explores Pueblo Alto and New Alto and passes by Chacoan basins, stairways, ramps, and roads.
See Trail Detail/Full Description
Distance: 6.0 miles (loop) to Pueblo Alto

Elevation: 6,110-ft. at Trailhead
6,455-ft. at Pueblo Alto

Elevation Gain: 345-ft. to Pueblo Alto

Difficulty: moderate-strenuous
More Hikes in:
Chaco Canyon / Northwest New Mexico
Why Hike Pueblo Alto
This is the most popular hike in Chaco Canyon and deservedly so. The trail climbs steeply up the cliff face behind Kin Klesto to the top of the mesa on the north side of the canyon where excellent views extend south and west across Chaco Canyon. On the mesa top the path travels along the rim, offering stunning, bird's eye views of the "Great Houses" Pueblo Bonito and Chetro Ketl, and then visits the mesa top "Great Houses" Pueblo Alto and New Alto. Along the way the trail passes by Chacoan basins, stairways, ramps and roads, in addition to affording panoramic views of the San Juan Basin.
The Pueblo Alto complex is composed of six structures, only four of which are visible. Pueblo Alto, the largest of the ruins is the only structure that has been excavated. East Ruin, which you passed on the trail, Rabbit Ruin to the north and New Alto to the west remain unexcavated.
A network of trails around the Pueblo Alto and New Alto ruins allow for an intimate examination of the structures. After seeing the reconstructions of the Great Houses in the valley it is quite interesting to observe what ruins look like prior to reconstruction and excavation.
While this is a popular trail you will find that most people climb to the mesa top and then head directly to Pueblo Alto, ignoring the remainder of the loop trial. I highly recommend hiking the entire loop during the spring and fall when temperatures are comfortable. The loop offers some great vista and will provide a greater appreciation of the Chaco environment.
Be forewarned there is little or no shade along this route. Take plenty of water. If hiking in the summer try to get an early start to beat the worst of the heat.
Elevation Profile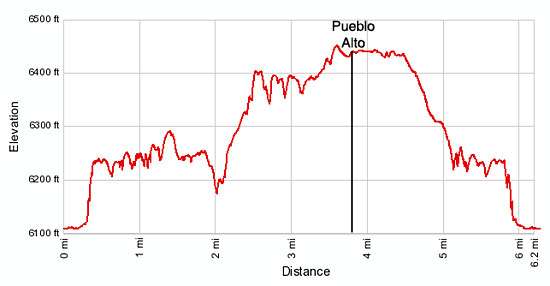 Trail Resources
Trail Detail/Full Description / Trail Photo Gallery / Trail Map
Basecamp(s) Information:
Chaco Canyon
Region Information:
Northwest New Mexico
Other Hiking Regions in:
New Mexico