Glorious, panoramic views of Piz Bernina and Piz Roseg from Fuorcla Surlej, front row seats to an incredible spectacle of rock and ice from Coaz Hut and a lovely walk through the beautiful meadows and forests of Val Roseg make this one of my favorite hikes in the St. Moritz area.
See Trail Detail/Full Description
Distance: 3.0 miles (round trip) to Fuorcla Surlej
4.1 miles (one way) to Viewpoint
12.3 miles (one way) to Pontresina (Complete Hike)

Elevation: 8,855-ft. at Trailhead
9,039-ft. at Fuorcla Surlej
8,710-ft. at Viewpoint
5,830-ft. at Pontresina (Complete Hike)

Elevation Gain: 327-ft. to Fuorcla Surlej
766-ft. to Viewpoint
-2,880-ft. to Pontresina (Complete Hike)

Difficulty: strenuous
More Hikes in:
St Moritz / Eastern Switzerland
Why Hike Fuorcla Surlej to Pontresina via Coaz Hut
This great hike ascends to Fuorcla Surlej where dramatic views open to Piz Bernina and Piz Roseg and then travels high above Val Roseg (Roseg Valley) toward Coaz Hut accompanied by stunning views of the Bernina Range. Hikers can opt to visit the hut, set amid a glacial wonderland, or walk down the scenic valley to Pontresina.
This hike starts at the Murtel middle station of the Corvatsch cable car. Here hikers are greeted with terrific views of the Upper Engadine lakes plateau. From Mutel a good trail climbs to Fuorcla Surlej (Surlej Pass), renowned for its magnificent views of the Piz Bernina, Piz Roseg and the Tschierva Glacier. In the background, impressive glaciers spill down the slopes of the Sella massif.
Beyond the pass the trail curves south, traveling through pretty meadows sprinkled with wildflowers high above the west side of the Val Roseg. With every step the views of the Bernina range get better and better. Straight ahead are splendid vistas of the peaks forming the valley's glacier-clad head wall, including Piz Sella and Piz Gluschaint. Piz Bernina and Piz Roseg rise directly across the valley. The milky glacial waters of Lej da Vadret (Lake Vadret) lie cradled on the valley floor.
Hikers can either find a scenic lunch spot along the high trail to take in the views or walk to all the way to the Coaz Hut at the head of the valley. The hut, perched on a rocky knob, enjoys awesome, up-close views of the massive Roseg and Sella glaciers tumbling down the valley's head wall. From the high trail two paths descend to the floor of the Val Roseg and then head down valley through pretty meadows and forests to Pontresina.
It is too long for most hikers to go over the pass, visit the hut and then walk down to Pontresina in one day. This trip is best done by spending a night at the Coaz Hut. Day hikers can visit the pass and the hut on an out-and-back hike from Murtel or go part way to the Coaz Hut, stopping at a scenic overlook, before walking down Val Roseg to Pontresina.
Pick a nice day for this hike. A good segment of the trail travels along open, exposed slopes -- not a good place to be if the weather is threatening.
Elevation Profile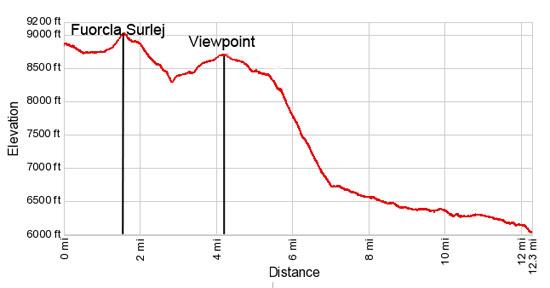 Support our Site
Buy the Book

This opinionated guide includes all the hikes in the Switzerland section of the website plus info on local services and nearby attractions.
Trail Resources
Trail Detail/Full Description / Trail Photo Gallery / Trail Map
Basecamp(s) Information:
St Moritz
Region Information:
Eastern Switzerland
Other Hiking Regions in:
Switzerland