Climb to the Col de Sorebois and then travel high above the Lac de Moiry to the Moiry Glacier. The walk is accompanied by fine views of the peaks towering above the Zinal, Moiry and Arolla valleys. Extend the hike by visiting the Moiry Hut or walking back along the lake to the dam.
See Trail Detail/Full Description
Distance: 5.6 miles (one way) to Over the Col du Sorebois to the Moiry Glacier
8.9 miles (one way) to Lac de Moiry Barrage (Complete Hike)

Elevation: 8,000-ft. at Trailhead
9,374-ft. at Over the Col du Sorebois to the Moiry Glacier
7,380-ft. at Lac de Moiry Barrage (Complete Hike)

Elevation Gain: 2,000-ft. to Over the Col du Sorebois to the Moiry Glacier
-343-ft. to Lac de Moiry Barrage (Complete Hike)

Difficulty: moderate
More Hikes in:
Zinal / The Valais
Why Hike Sorebois to Lac de Moiry via Col de Sorebois
This hike crosses the ridge separating the Zinal and the Moiry valleys at the Col du Sorebois, a scenic pass with panoramic views of the peaks towering above the east side of the Zinal Valley, the rugged summits rising to the west of the Lac de Moiry and, in the distance, the high-peaks soaring above Arolla.
The ascent to the pass travels through the pastures of the Sorebois ski area marred with ski apparatus. After crossing the Col du Sorebois the trail drops steeply into the Val de Moiry and then traverses the steep slopes on the east side of the valley, high above the Lac de Moiry. This segment is accompanied by views of the ridge, punctuated with minor summits, along the west side of the Moiry valley. For much of the traverse the glacier-clad peaks at the head of the valley are hidden by the slopes of the west face of the Garde de Bordon protruding into the valley.
As the trail approaches the head of the valley grand views open to the Moiry Glacier, spilling down the slopes of the Grand Cornier. Near the head of the valley the trail drops down to the valley floor. The hike can be cut short at this point by taking the bus back to Grimentz and Zinal.
At the head of the valley hikers can opt to visit the Moiry Hut with splendid views of the Moiry Glacier. This side trip climbs over 1,300-ft. on a 4.0 mile round-trip hike to the hut. Alternatively, hikers can walk to the Barrage de Moiry (dam) on a pleasant trail traveling along the west side of the lake. At the dam, regularly scheduled buses return to Grimentz and Zinal.
Elevation Profile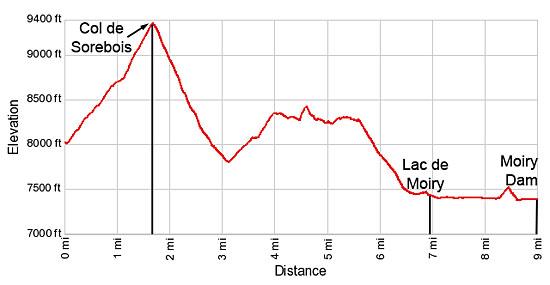 Support our Site
Buy the Book

This opinionated guide includes all the hikes in the Switzerland section of the website plus info on local services and nearby attractions.
Trail Resources
Trail Detail/Full Description / Trail Photo Gallery / Trail Map
Basecamp(s) Information:
Zinal
Region Information:
The Valais
Other Hiking Regions in:
Switzerland