Balanced Rock
Distance: 0.3 miles
Arches National Park, near Arches in Southeast Utah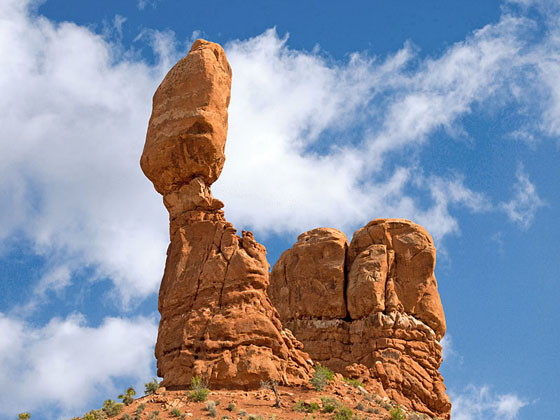 Balanced Rock
The Balanced Rock trail circles a photogenic 128-ft. tall rock formation, offering a variety of perspectives of the formation and the surrounding landscape in Arches National Park.
Distance: 0.3 miles (RT)
Elevation: 5,025-ft. at Trailhead
Maximum elevation - 5,050-ft.
Elevation Gain: 25-ft.
Difficulty: easy
Region: Southeast Utah
Trail Description - Balanced Rock
The Balanced Rock formation is composed of a 55-ft. tall cap rock made of Slick Rock Entrada Member, a hard rock, sitting atop a 73-ft. tall tower of Dewey Bridge sandstone, a soft rock. Over time the Dewey Bridge sandstone eroded faster than the Slick Rock Entrada Member, producing the Balanced Rock formation. Eventually the formation is expected to collapse, as the Dewey Bridge continues to erode faster than the cap rock.
The partially paved loop trail circumnavigates the formation and offers views of the nearby rock formations in the Windows area of the park.
Driving Directions
From Moab, UT: From Center Street and Main Street/US 191 in Moab, head north on Main Street/US 191 N for 4.6 miles and then turn right on the Arches Entrance Road. Pass thru the kiosk where you pay your entrance fee. A short distance beyond the kiosk is the right turn for the Visitor Center (0.7 miles from the entrance). The Visitor Center is a good place to see exhibits on the park, obtain information and check on current conditions.
From the Visitor Center continue on the Arches Entrance Road, which is now called the Arches Scenic Drive, for 8.9 miles to the Balance Rock trailhead located on the right (east) side of the road.
Trail Resources