This strenuous hike travels down stunningly beautiful Owl Creek Canyon to Nevill's Arch, an imposing span located atop a high fin.
See Trail Detail/Full Description
Distance: 9.6 miles (round trip) to Owl Creek Canyon

Elevation: 6,190-ft. at Trailhead
5,000-ft. at Owl Creek Canyon

Elevation Gain: -1,190-ft. to Owl Creek Canyon

Difficulty: strenuous
More Hikes in:
Blanding / Mexican Hat / Southeast Utah
Why Hike Owl Creek Canyon to Nevill's Arch
Stunning Nevill's Arch, impressive sandstone walls and a dramatic pour-off are a few of the visual delights along the strenuous trail down Owl Creek Canyon. The initial section of the trail drops steeply down slickrock slopes and rocky hillsides. At times the trail feels like an obstacle course as it navigates bypass trails circumventing pour-offs and other obstructions on the canyon floor. But it's well worth the effort to see this beautiful canyon.
Sections of the wash along the deep, narrow canyon contains pools of water during the spring and fall, spurring the growth of cottonwood trees and willows amid junipers, pinyon pines and sagebrush. Extensive hanging gardens surround the plunge pools beneath the major pour-offs. Nevill's Arch, the hike's ultimate destination, is an impressive span located high atop a massive fin extending from the canyon's northeast wall.
Unlike other trails on Cedar Mesa, archaeology is not a major focus of this hike. The canyon's ruins are few in number, hard to see and inaccessible, located high on the canyon's northeastern wall. The one exception is a well preserved kiva tucked in a deep alcove along the canyon's entry route. The rest will require an eagle eye and a set of binoculars.
The trail is best hiked in the spring and fall when temperatures are cool. Carry plenty of water. Do not depend on finding water in the canyon. Check on current water conditions at the Kane Gulch Ranger Station before starting the trip.
Be forewarned that this is not a trail for novice hikers. Hikers should be comfortable following rock cairned routes and negotiating steep slickrock friction pitches and rocky trails. Backpackers may feel more comfortable using ropes to lower their packs down a few of the very steep sections of the trail.
Elevation Profile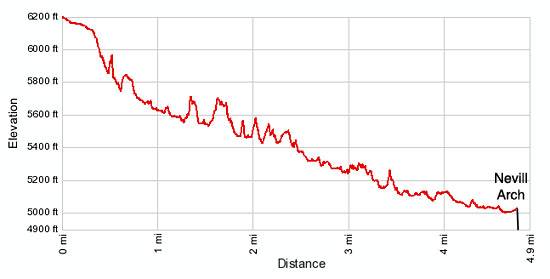 Trail Resources
Trail Detail/Full Description / Trail Photo Gallery / Trail Map
Basecamp(s) Information:
Blanding / Mexican Hat
Region Information:
Southeast Utah
Other Hiking Regions in:
Utah