Chesler Park
Distance: 5.4 - 10.9 miles (loop)
Needles District, Canyonlands National Park, near Canyonlands in Southeast Utah
A long, entertaining circuit through a stunning landscape of sandstone spires, pinnacles, knobs, fins and monoliths surrounding a scenic expanse of desert grassland in the Needles District of Canyonlands National Park.
See Trail Detail/Full Description
Distance: 5.4 miles (round trip) to Chesler Park Overlook
10.0 miles (round trip) to Joint Trail
10.9 miles (loop) to Complete Loop

Elevation: 5,120-ft. at Trailhead
5,646-ft. at Chesler Park Overlook
5,706-ft. at Joint Trail
5,647-ft. at Complete Loop

Elevation Gain: 526-ft. to Chesler Park Overlook
588-ft. to Joint Trail
1,188-ft. to Complete Loop

Difficulty: strenuous
More Hikes in:
Canyonlands / Monticello / Southeast Utah
Why Hike Chesler Park
In the southeastern corner of the Needles District of Canyonlands National Park lies Chesler Park, a sublime expanse of desert grasslands encircled by incredible sandstone formations. The initial segment of the hike to the Chesler Park Viewpoint wanders along slickrock benches, crosses a rugged red rock canyon and then climbs a steep, rocky slope to a pass overlooking the Park.
Beyond the viewpoint the trail loops around Chesler Park, traveling through an amazing landscape of stunning multi-hued sandstone pillars, fins, spires and knobs, eroded by wind and water into fantastical shapes. Negotiating this rock wilderness requires a trip through the Joint, an entertaining traverse following a series of deep, narrow fractures in the rock.
A short segment of the hike is on a sandy 4WD road. Traffic along the road, reached via Elephant Hill -- one of the most technical 4WD roads in Utah, is minimal and the great scenery along the way helps you forget you are walking on a road.
Be advised that this is a long hike through dry, waterless country that is best accomplished during the spring or fall when temperatures are milder. Hiking the trail is not recommended during the summer months when temperatures often exceed 100 degrees F. Make sure you carry plenty of water and pickup a map at the visitor center to help you stay on the right trail.
Elevation Profile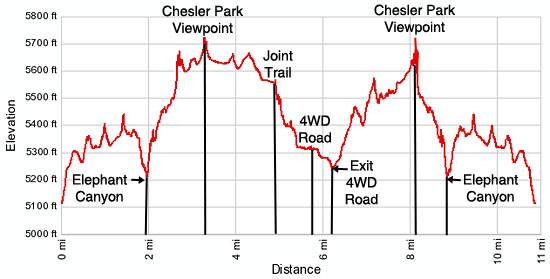 Trail Resources
Trail Detail/Full Description / Trail Photo Gallery / Trail Map
Basecamp(s) Information:
Canyonlands / Monticello
Region Information:
Southeast Utah
Other Hiking Regions in:
Utah