This challenging hike crossing Sentinel Pass rewards hikers with breathtaking, panoramic views of Paradise Valley and Valley of the Ten Peaks, two of these most beautiful areas in Banff National Park. The hike is for experienced parties comfortable with route finding and climbing extremely steep scree covered slopes.
See Trail Detail/Full Description
Distance: 5.1 miles (one way) to Giant Steps Junction
6.9 miles (one way) to Sentinel Pass
10.4 miles (one way) to Moraine Lake

Elevation: 5,650-ft. at Trailhead
6,900-ft. at Giant Steps Junction
8,566-ft. at Sentinel Pass
8,566-ft. at Moraine Lake

Elevation Gain: 1,250-ft. to Giant Steps Junction
2,916-ft. to Sentinel Pass
-2,383-ft. to Moraine Lake

Difficulty: strenuous-difficult
More Hikes in:
Banff / Lake Louise / The Canadian Rockies
Why Hike Paradise Valley to Moraine Lake via Sentinel Pass
Stunning views of Paradise Valley and Valley of the Ten Peaks are the highlights of this challenging hike in the Lake Louise Area. Starting at the Paradise Valley Trailhead, this point to point hike ascends through trees to Lake Annette (6,447-ft.), cradled beneath Mount Temple (11,621-ft.). Past the lake, the trail climbs to and crosses a rockslide before following a scenic, traverse along the north facing slopes of Mount Temple. Views to the valley's towering cirque are breathtaking along this stretch of the trail.
Soon the trail reaches a junction, where we turn toward Sentinel Pass. The trail, really a route, climbs through boulder fields and steep scree slopes gaining over 1,500-ft. to the pass. At the pass, a windswept saddle between Mount Temple (11,621-ft.) and Pinnacle Mountain (10,060-ft.), breathtaking views open to the Valley of the Ten Peaks. With proper arrangements, parties can continue over Sentinel Pass, descending through scree, meadows and then larch forest to beautiful Moraine Lake.
This hike is only recommended for hikers versed with route finding skills and comfortable climbing extremely steep, scree slopes. Don't attempt the Sentinel Pass segment of the route if snow is present on the route to the pass.
For easier, round-trip day hikes, see the Paradise Valley Hike, which leads to the Giant Steps at the head of the valley, or climb to Sentinel Pass from Moraine Lake.
Elevation Profile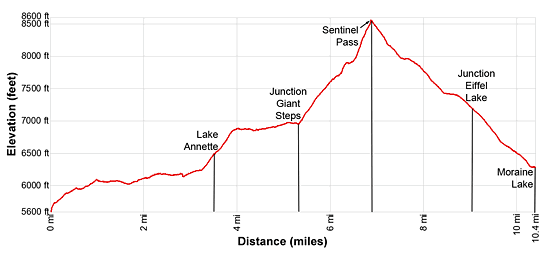 Trail Resources
Trail Detail/Full Description / Trail Photo Gallery / Trail Map
Basecamp(s) Information:
Banff / Lake Louise
Region Information:
The Canadian Rockies
Other Hiking Regions in:
Alberta / British Columbia