This popular hike visits a series of scenic lakes set amid pretty meadows and framed by a wall of granite peaks and ridges, anchored by Mt Langley.
See Trail Detail/Full Description
Distance: 11.6 miles (round trip) to Cottonwood Lakes
12.4 miles (round trip) to Lakes #4 and #5

Elevation: 10,070-ft. at Trailhead
11,140-ft. at Cottonwood Lakes
11,200-ft. at Lakes #4 and #5

Elevation Gain: 1,207-ft. to Cottonwood Lakes
1,267-ft. to Lakes #4 and #5

Difficulty: moderate
More Hikes in:
Lone Pine / Bishop / California's Southeastern Sierra
Why Hike Cottonwood Lakes
Mount Langley and Cirque Peak form the dramatic backdrop for the scenic Cottonwood Lakes, set amid pretty meadows and forested shorelines at the southern end of the John Muir Wilderness. This popular hike visits three of these alpine jewels. An optional extension climbs to Lakes #4 and #5 nestled in a stark basin beneath Old Army Pass. Connecting trails in the basin lead to Muir Lake, Cottonwood Lakes #1 and #2, South Fork Lakes, Long Lake and High Lake as well as New Army Pass and Old Army Pass, offering ample opportunities for exploration on multi-day trips into the basin.
It should be noted that the first 3.5 miles of the hike traverses a forested landscape with limited views. Easy to moderate grades along this section of the trail allow for quick travel. The great views start as the trail climbs to the Cottonwood Lakes Basin and are non-stop for the remainder of the hike.
The fabulous scenery and relatively easy access make the basin a favorite with hikers, fishermen and backpacker, so do not expect solitude. Be advised that there is plenty of competition for the limited number of overnight camping permits. It is best to plan ahead and request your permit as soon as possible.
Elevation Profile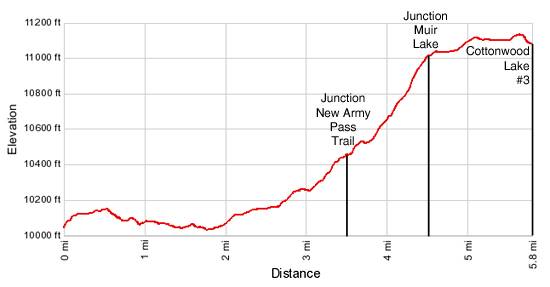 Trail Resources
Trail Detail/Full Description / Trail Photo Gallery / Trail Map
Basecamp(s) Information:
Lone Pine / Bishop
Region Information:
California's Southeastern Sierra
Other Hiking Regions in:
California