Solitude, a good workout and nice views, along with a chance to see wildlife, are the rewards for hikers of this lightly used trail ascending steeply to saddle separating the Snowmass and Capitol Creek Valleys.
See Trail Detail/Full Description
Distance: 12.4 miles (round trip) to the Pass

Elevation: 8,400-ft. at Trailhead
11,780-ft. at the Pass

Elevation Gain: 3,380-ft. to the Pass

Difficulty: strenuous
More Hikes in:
Aspen / Central Colorado
Why Hike West Snowmass
The West Snowmass trail is a good option for hikers looking for a little solitude, a good workout and some nice views. The lightly used trail climbs to a saddle at the top of a ridge separating the Snowmass and Capitol Creek Valleys. Views from the saddle extend southeast to the high peaks of the Maroon Bells-Snowmass Wilderness. To the west, the red rock peaks lining the Capitol Creek drainage extend northwest to Mt. Sopris.
The trail offers good opportunities to spotting deer, elk and other wildlife. On two separate occasions I have seen small black bears loping through the woods near the creek.
From the top of the ridge the trail drops steeply to Capitol Creek where it links with the Capitol Creek trail, offering backpackers options for extended loop trips. Keep in mind that after crossing Snowmass Creek the West Snowmass Trail gains 3,000-ft. in 4.5 miles. Not an easy trail if carrying a full pack.
Elevation Profile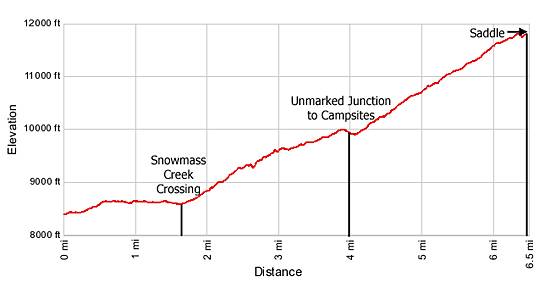 Buy the Book

This opinionated guide includes all the hikes in the Aspen, Buena Vista, Crested Butte, Marble and Leadville sections of the website plus info on local services and nearby attractions.
Trail Resources
Trail Detail/Full Description / Trail Photo Gallery / Trail Map
Basecamp(s) Information:
Aspen
Region Information:
Central Colorado
Other Hiking Regions in:
Colorado