This trail ascends through larch forests and rocky meadows in the lower Gorner Valley, exploring the rugged terrain left by the receding Gorner Glacier. Information boards show the glacier's progress over time and provide insights on the area's geology.
See Trail Detail/Full Description
Distance: 3.8 miles (round trip) to Gorner Gletschertor

Elevation: 6,125-ft. at Trailhead
6,890-ft. at Gorner Gletschertor

Elevation Gain: 900-ft. to Gorner Gletschertor

Difficulty: moderate
More Hikes in:
Zermatt / The Valais
Why Hike Gorner Gletschertor and Gletschergarten
The Gorner Gletschertor (Gorner Glacier Gate) trail explores the rugged landscape left by the retreating glacier in the lower Gorner Valley. Over 150 years ago the furthest extent of the Gorner Glacier reached a point near Furi, a hamlet 2.0 miles (3.2-km) south of Zermatt. Since that time the glacier has retreated over 1.9-miles (3.0-km) up the valley.
Information boards along the trail explain how the retreating glacier changed the landscape and impacted the alps in the valley. On the return leg of the hike an optional side trip visits the Gletschergarten (Glacier Garden), a short loop through an area of pot holes and other rock formations carved by the retreating glacier. A playground and picnic area are located nearby.
The short versions of this hike start and end at the Furi Lift station. The long version extends the hike by walking back to Zermatt. There are other alternatives, such as starting the hike at Riffelberg, a stop on the Gornergrat Railroad. From Riffelberg take the Gletschergartenweg (Glacier Garden path Nr. 17) that descends steeply to the lower Gorner Valley, losing over 1,700-ft. (520-meters) in 1.9 miles (3.1 km). Personally, I do not recommend this option. (The hike that incorporates the descent from Riffelberg is also called the Gorner Glacier Over the Course of Time -Nr.17b on the Zermatt website.)
The Gorner Gletschertor is a good hike for families or anyone looking for an easy day. It is also a great option if the weather prevents hiking at higher elevations.
Elevation Profile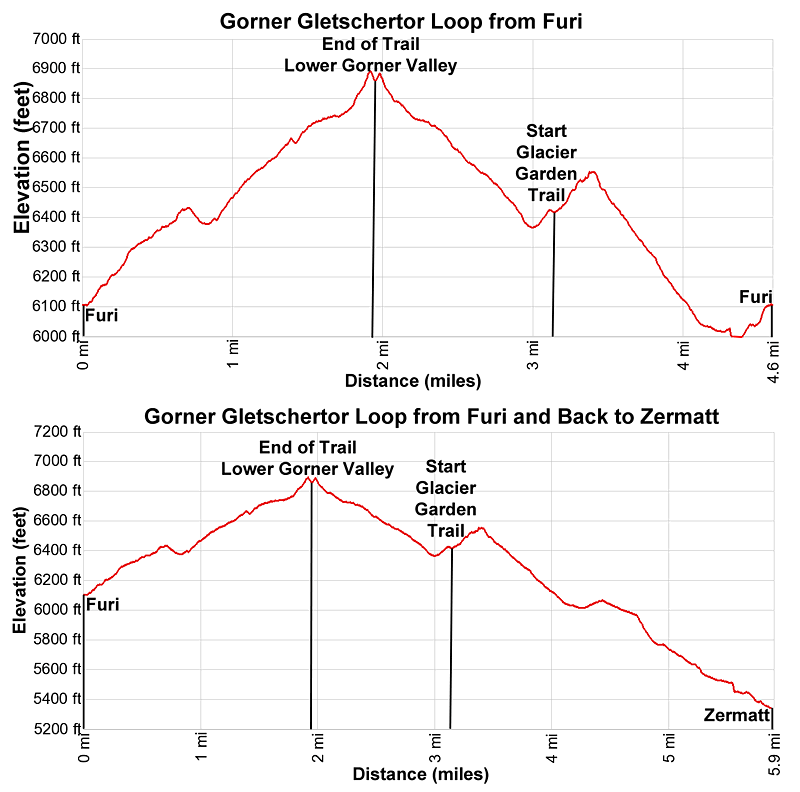 Support our Site
Buy the Book

This opinionated guide includes all the hikes in the Switzerland section of the website plus info on local services and nearby attractions.
Trail Resources
Trail Detail/Full Description / Trail Photo Gallery / Trail Map
Basecamp(s) Information:
Zermatt
Region Information:
The Valais
Other Hiking Regions in:
Switzerland