Skyline Arch
Distance: 0.4 miles
Arches National Park, near Arches in Southeast Utah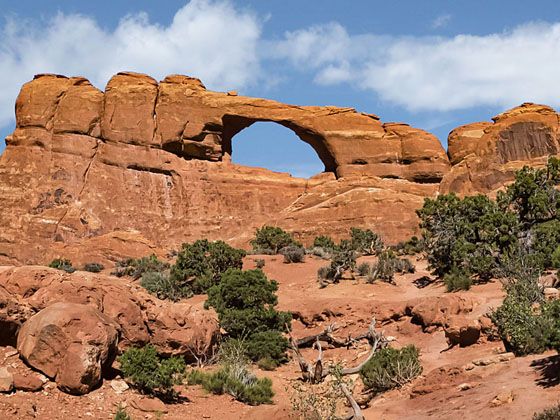 Skyline Arch
Distinctive Skyline Arch graces the top of a large fin and is visible from many viewpoints around Arches National Park. A short, easy trail leading to the base of the arch provides up-close views of this impressive span.
Distance: 0.4 miles (RT)
Elevation: 5,165-ft. at Trailhead
Maximum elevation - 5,200-ft.
Elevation Gain: 35-ft.
Difficulty: easy
Region: Southeast Utah
Trail Description - Skyline Arch
While Skyline Arch is visible from the road, it's still worthwhile to take the short, easy hike to the get a better view of this impressive formation set high atop a large fin. The arch is in sight for the entire hike across the desert flats. As you near the arch it does seem to fill of the skyline. Once you get beneath the arch, look up to see where a large boulder fell from the formation in November of 1940, greatly enlarging the opening.
Driving Directions
From Moab, UT: From Center Street and Main Street/US 191 in Moab, head north on Main Street/US 191 N for 4.6 miles and then turn right on the Arches Entrance Road. Pass thru the kiosk where you pay your entrance fee. A short distance beyond the kiosk is the right turn for the Visitor Center (0.7 miles from the entrance). The Visitor Center is a good place to see exhibits on the park, obtain information and check on current conditions.
From the Visitor Center continue on the Arches Entrance Road, now called the Arches Scenic Drive, for 16.4 miles to the Devil's Garden Road. Continue straight ahead on the Devil's Garden Road for 0.3 miles to the Skyline Arch pull-off, located on the right (east) side of the road.
Trail Resources