Lost Canyon / Big Spring Canyon Loop
Distance: 8.7 - 10.0 miles (loop)
Needles District, Canyonlands National Park, near Canyonlands in Southeast Utah
Spectacular canyon scenery awaits hikers on this varied loop hike traversing sandy washes, climbing slickrock benches and crossing steep sandstone ridges as it travels through three scenic canyons.
See Trail Detail/Full Description
Distance: 10.0 miles (loop)

Elevation: 5,122-ft. at Trailhead
Maximum elevation: 5,584-ft.

Elevation Gain: 840-ft.

Difficulty: strenuous
More Hikes in:
Canyonlands / Monticello / Southeast Utah
Why Hike Lost Canyon / Big Spring Canyon Loop
The Needles District of Canyonlands National Park protects a maze of spectacular canyons in the heart of southeast Utah's high desert. This excellent loop hike travels through three of these scenic canyons, offering an intimate view of the weird and wonderful world of sculpted sandstone monoliths, rock spires, fins and knobs.
The interconnecting trails that form the strenuous loop hike traverse sandy washes, cross slickrock benches and climb two steep sandstone ridges to amazing viewpoints overlooking the canyons. From these lofty vantage points the La Sal Mountains and distant red rock buttes form a stunning backdrop to a colorful landscape filled with rock spires, fins and knobs towering above sinuous canyons.
It is possible to shorten the loop to 8.7 miles by hiking up Lost Canyon and returning via Squaw Canyon. The shorten loop eliminates the climbs over the steep ridge separating Squaw and Big Spring Canyons.
Note that portions of this hike ascend steep slickrock slopes and traverse ledges with exposed dropoffs. One ladder facilitates a climb down off a slickrock ledge. Extreme caution is required when the slickrock is wet or icy. This trail is not recommended for people with a fear of heights or uncomfortable walking on steep slickrock friction pitches.
The best time to hike the loop is during the spring and fall when temperatures are milder, with highs in the 60's, 70's and 80's. Hiking is not recommended during the summer months when temperatures often exceed 100 degrees F.
Be sure to carry plenty of water. Do not depend upon finding water along the way.
Elevation Profile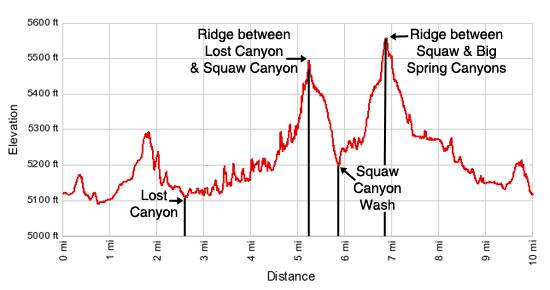 Trail Resources
Trail Detail/Full Description / Trail Photo Gallery / Trail Map
Basecamp(s) Information:
Canyonlands / Monticello
Region Information:
Southeast Utah
Other Hiking Regions in:
Utah