This hike ascends East Torrey Creek to Bomber Basin and then climbs the slopes of Arrow Mountain to an overlook at 10,000-ft. and Pass 10,895-ft. Views encompass Torrey Peak, Middle Mountain, Whiskey Mountain, the Absaroka Range and, at the pass, Horse Ridge and Burro Flats.
See Trail Detail/Full Description
Distance: 6.5 miles (round trip) to Upper Bomber Basin
11.6 miles (round trip) to Overlook
16.0 miles (round trip) to To Pass 10895

Elevation: 7,597-ft. at Trailhead
8,580-ft. at Upper Bomber Basin
10,200-ft. at Overlook
10,895-ft. at To Pass 10895

Elevation Gain: 985-ft. to Upper Bomber Basin
2,605-ft. to Overlook
3,390-ft. to To Pass 10895

Difficulty: strenuous
More Hikes in:
Dubois / Wyoming's Wind River Range
Why Hike Glacier Trail (day hike)
The Glacier Trail is typically used by backpackers to reach the Gannett Peak area. Day hikers will find several worthwhile destinations along the first segment of the hike.
Starting at the end of the Trail Lake Road, hikers briefly follows the Whiskey Mountain Trail before turning south and crossing a bridge over East Torrey Creek. The Glacier Trail now ascends the east side of East Torrey Creek to the beautiful meadows of Bomber Basin where views extend south/southwest to Torrey Peak and the rugged granite knobs lining the basin's west wall. A junction in Upper Bomber Basin at 3.25 miles is a good turn around point for hikers looking for a shorter day.
Beyond the junction the Glacier Trail climbs a series of switchbacks up the west facing slopes of Arrow Mountain to a meadow at 10,000-ft. A brief detour up a nearby ridge yields fine views of Middle Mountain and Torrey Peak to the west/southwest and Whiskey Mountain to the northwest. The Absaroka Range fills the skyline to the north.
Strong hikers, with an early start, can continue hiking up the meadow clad slopes of Arrow Mountain to Pass 10895 at 8.0 miles where views open to Horse Ridge and Burro Flats. The pass is located between two conical summits, Peak 11695 to the west and Peak 11696 to the east.
Note: There are two Glacier Trails. The "New" Glacier Trail, covered in this trail description, was constructed after a large landslide in 1976 obliterated part of the "Old" Glacier Trail. The "Old" Glacier trails starts to the south of the parking area for horse trailers and immediately crosses Torrey Creek. There is no bridge requiring a challenging ford of the deep and fast flowing river. This crossing is dangerous for hikers and backpackers until late summer/early fall. It is still used by outfitters. Hikers and backpackers should use the "New" Glacier trail.
Elevation Profile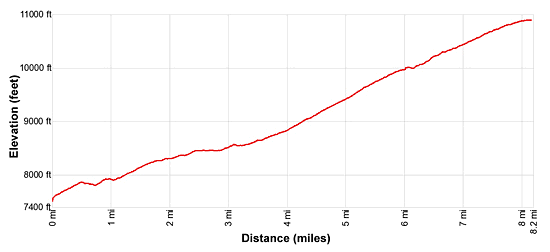 Trail Resources
Trail Detail/Full Description / Trail Photo Gallery / Trail Map
Basecamp(s) Information:
Dubois
Region Information:
Wyoming's Wind River Range
Other Hiking Regions in:
Wyoming