Photographer's Point
Distance: 9.4 miles (round trip)
Bridger Wilderness, Bridger-Teton National Forest, near Elkhart Park in Wyoming's Wind River Range
Photographer's Point, one of the most popular day hikes in the Wind River Range, leads to a breathtaking overlook where a sea of jagged summits along the western side of the Continental Divide fill the horizon.
See Trail Detail/Full Description
Distance: 9.4 miles (round trip) to Photographer's Point

Elevation: 9,340-ft. at Trailhead
10,350-ft. at Photographer's Point

Elevation Gain: 1,010-ft. to Photographer's Point

Difficulty: moderate
More Hikes in:
Elkhart Park / Wyoming's Wind River Range
Why Hike Photographer's Point
Photographer's Point is a popular day hiking destination and deservedly so. From the aptly named viewpoint a stunning panorama of the high peaks towering above the Indian Basin, Titcomb Basin and the Upper Fremont Valley fill the skyline. Below the overlook is the deep canyon carved by Fremont Creek while in the middle-distance are a sea of granite knobs and low peaks.
From the Elkhart Park trailhead, the hike to the viewpoint follows the heavily trafficked Pole Creek Trail, the favorite route for backpackers bounds for Island Lake. For the first 4.0 miles the trail climbs on moderate grades through predominately viewless Forest. Miller Park's meadows, at 3.3 miles, offers a brief break from the monotony with distant views of the high peaks in the northern portion of the Wind River Range.
Beyond the meadows the landscape changes as the trail now climbs through forest and small meadow set amid rock outcroppings and granite knobs, reaching Photographer's Point at 4.7 miles. Visible summits from the viewpoint include Bow Mountain (13,020-ft.), American Legion Peak (13,205-ft.), Mt. Woodrow Wilson (13,502-ft.), Mount Helen, Mount Sacagawea, Fremont Peak and Jackson Peak, to name a few.
When you are done taking in the scene, retrace your steps to the trailhead for a 9.4 miles hike.
Elevation Profile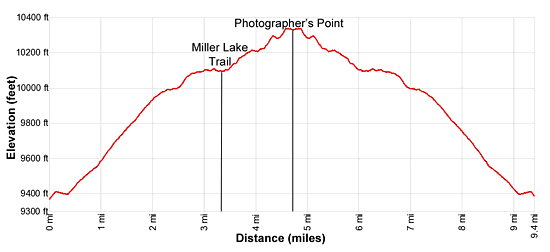 Trail Resources
Trail Detail/Full Description / Trail Photo Gallery / Trail Map
Basecamp(s) Information:
Elkhart Park
Region Information:
Wyoming's Wind River Range
Other Hiking Regions in:
Wyoming