Why Hike Little Lakes Basin
The Little Lakes Basin is truly an extraordinary place. An easy trail ascends along a succession of gorgeous glacial carved lakes set amid pretty meadows framed by the spectacular 13,000-ft peaks of Bear Creek Spire, Mt. Dade, Mt. Abbot, Mt. Mills and Mt. Morgan. Along the way spur trails and routes leading to unseen lakes and two major passes invite further exploration.
Starting at 10,200-ft., this high elevation trail requires minor effort and elevation gain to access it's amazing views, shimmering lakes and lofty granite peaks, making the area a popular destination for hikers, backpackers and fishermen. Due to its popularity the small trailhead parking lot fills early in the day, typically before 9am during the height of the summer. The closest overflow parking area is located 0.3 miles back down the road. My advice is to get an early start or plan on extending you hike with a walk up the road.
Read the full trail description
Elevation Profile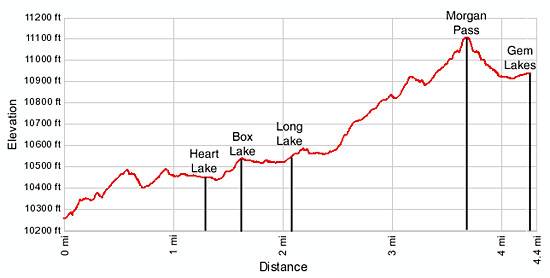 Trail Resources