This trail, our personal favorite, has waterfalls, wildflowers, a pristine lake and gigantic views of the Lead King Basin and backside of the Maroon Bells. Additionally, you can and should combine this trip with 4WD or ATV circumnavigation of the Lead King Basin road with stops in Crystal City and the Crystal Mill. (full description)
Distance: 4.2 miles (round trip) to Geneva Lake

Elevation: 9,678-ft. at Trailhead
10,985-ft. at Geneva Lake

Elevation Gain: 1,307-ft. to Geneva Lake

Difficulty: moderate
Region: Central Colorado
Why Hike Geneva Lake
This short hike packs in a lot of scenic delights as it travels to a Geneva Lake (10,985-ft.), an alpine jewel tucked in a pretty basin at the foot of Snowmass Mountain (14,092-ft.) and Hagerman Peak (13,841-ft.). Along the way the climb to the lake passes waterfalls, travels through alpine meadows sprinkled with wildflowers and offers great views of Treasure Mountain and the Maroon Bells.
Read the full trail description
Elevation Profile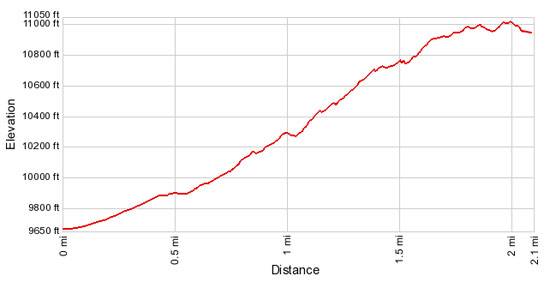 Buy the Book

This opinionated guide includes all the hikes in the Aspen, Buena Vista, Crested Butte, Marble and Leadville sections of the website plus info on local services and nearby attractions.
Trail Resources