A dramatic trail carved into a steep cliff face high above Bear Creek is just one of the highlights of this hike up a beautiful canyon to two scenic mine sites.
See Trail Detail/Full Description
Distance: 4.4 miles (round trip) to Grizzly Bear Mine
8.0 miles (round trip) to Yellow Jacket Mine

Elevation: 8,470-ft. at Trailhead
10,030-ft. at Grizzly Bear Mine
11,130-ft. at Yellow Jacket Mine

Elevation Gain: 1,560-ft. to Grizzly Bear Mine
2,660-ft. to Yellow Jacket Mine

Difficulty: moderate-strenuous
More Hikes in:
Ouray / Silverton / Southwest Colorado
Why Hike Bear Creek National Recreation Trail
No matter how many times I hike Bear Creek I still marvel at the effort and ingenuity that went into building this trail. In the 1870's miners discovered large quantities of gold and silver in the Bear Creek basin southeast of Ouray. Accessing the claims proved difficult. A deep gorge, formed by sheer vertical walls rising high above the rugged creek, guarded the entrance to the basin. Building a trail in the steep rocky terrain along the creek bottom was not an option. Instead the miners blasted a narrow ledge into the cliff 700-ft. above the gorge.
Today, the Bear Creek National Recreation Trail follows this amazing route up beautiful Bear Creek Canyon. A series of long switchbacks with wonderful views of the Mt. Sneffels range climb 1,000-ft. up the east side of the Uncompahgre Gorge to reach the traverse of the ledge high above Bear Creek. Beyond Bear Creek's gorge the trail wanders through forests and alpine meadows beside the creek's tumbling cascades, visiting two scenic, abandoned mines along the way.
In places the trail is narrow with some exposure. This is not a good trail for small children or anyone with a fear of heights
Elevation Profile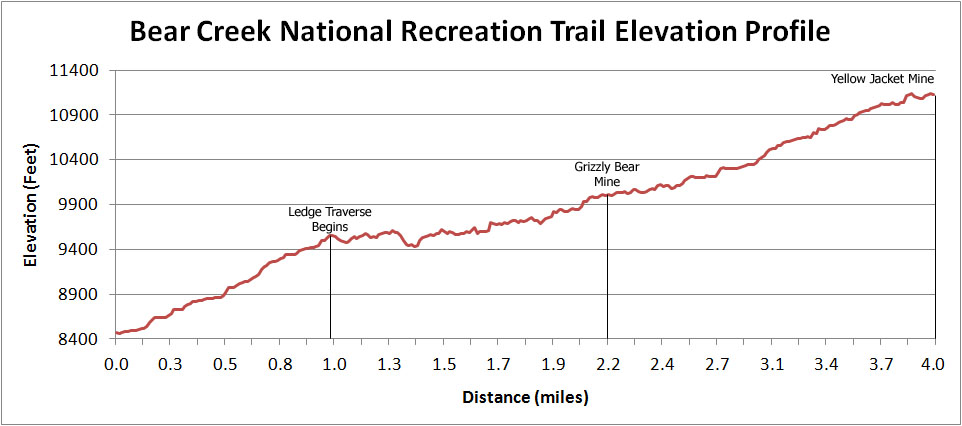 Buy the Book

This opinionated guide includes all the hikes in the Ouray, Telluride, Silverton and Lake City sections of the website plus info on local services and nearby attractions.
Trail Resources
Trail Detail/Full Description / Trail Photo Gallery / Trail Map
Basecamp(s) Information:
Ouray / Silverton
Region Information:
Southwest Colorado
Other Hiking Regions in:
Colorado