Piegan Pass from Many Glacier
Distance: 13.0 miles (round trip)
Glacier National Park, near Many Glacier in Glacier Natl Park, MT
Long beautiful hike up the Cataract Creek Valley to Piegan Pass features stunning views of the high peaks and rugged ridge defining the Garden Wall. From the pass view stretch southeast to Mt. Siyeh, Matahpi Peak and Going to the Sun Mountain.
See Trail Detail/Full Description
Distance: 3.3 miles (round trip) to Morning Eagle Falls
13.0 miles (round trip) to Piegan Pass

Elevation: 4,930-ft. at Trailhead
5,400-ft. at Morning Eagle Falls
7,570-ft. at Piegan Pass

Elevation Gain: 520-ft. to Morning Eagle Falls
2,640-ft. to Piegan Pass

Difficulty: strenuous
More Hikes in:
Many Glacier / St Mary / Glacier Natl Park, MT
Why Hike Piegan Pass from Many Glacier
There are two ways to reach Piegan Pass. Both are highly scenic. This trail, the longer and more strenuous of the two hikes, starts from the Many Glacier area on the north of the pass and travels up the lovely Cataract Creek Valley. The hike features glorious views of the Garden Wall, a high ridge punctuated with distinctive peaks, running along the Continental Divide, and two beautiful waterfalls – Feather Plume and Morning Eagle Falls.
The 16.8-mile round-trip Piegan Pass Trail, starting at the Many Glacier Hotel, is too long for most parties to tackle as a day hike. To shorten the hike this trail description begins with a shuttle boat ride up Swiftcurrent and Josephine Lakes to the Oastler boat dock at the head of Lake Josephine. A short spur trail then climbs from the boat dock to meet the Piegan Pass trail.
Hikers should catch the first shuttle boat of the day to insure sufficient time to complete the 13-mile round-trip hike and return to the boat dock in time to catch the last shuttle of the day. Check the schedules and latest information on purchasing tickets at the Glacier Park Boat Company website.
The shorter hike to Piegan Pass from the south begins at Siyeh Bend along the Going-to-the-Sun Road. See the Piegan Pass trail description for more information.
Elevation Profile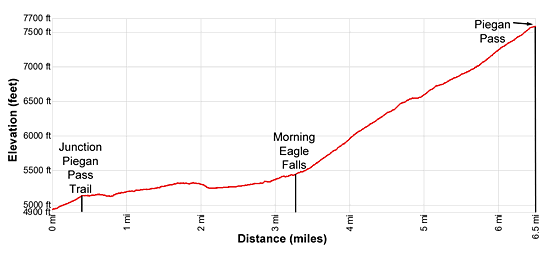 Trail Resources
Trail Detail/Full Description / Trail Photo Gallery / Trail Map
Basecamp(s) Information:
Many Glacier / St Mary
Region Information:
Glacier Natl Park, MT
Other Hiking Regions in:
Montana