Dawson Pass
Distance: 8.5 - 13.0 miles (round trip)
Glacier National Park, near Two Medicine in Glacier Natl Park, MT
This terrific day hike leads to a high pass on the Continental Divide with breathtaking views of the Lewis Range and the Big Horn Basin. Along the way the trail enjoys stunning views of Two Medicine Lake, traverses scenic meadows and offers the chance to see wildlife.
See Trail Detail/Full Description
Distance: 8.5 miles (round trip) to Dawson Pass

Elevation: 5,170-ft. at Trailhead
7,602-ft. at Dawson Pass

Elevation Gain: 2,332-ft. to Dawson Pass

Difficulty: strenuous
More Hikes in:
Two Medicine / St Mary / Glacier Natl Park, MT
Why Hike Dawson Pass
This is my favorite hike in the Two Medicine / East Glacier area. The strenuous trail climbs scenic Bighorn Basin to Dawson Pass (7,602-ft.) on the continental divide. Above timberline the trail enjoys fine views of Rising Wolf Mountain (9,513-ft.), Mt. Helen (8,538-ft.) and Pumpelly Pillar (7,625-ft.).
Upon reaching the pass a panorama of high peaks springs into view. Mt. Pinchot (9,210-ft.), Mt. Stimson (10,142-ft.), Mt. Thompson (8,527-ft.), Blackfoot Mountain (9,574-ft.) and Mt. Logan (9,239-ft.) grace the skyline to the northwest. Across the valley to the west Mt. Phillips (9,494-ft.) and the remains of the Lupfer Glacier dominate the scene. Almost 3,000-ft. beneath the imposing peak Nyack Creek meanders through the beautiful Nyack valley. The towering peaks to the southwest include Caper Peak (8,310-ft.), Battlement Mt. (8,830-ft.) and the distinctive summit of Mount St. Nicholas (9,376-ft.).
More spectacular scenery awaits hikers who follow the trail north toward Pitamakan Pass. Another option is to hike the Dawson-Pitamakin Pass Loop [LINK], a long, strenuous 17 mile trek that travels north from Dawson Pass to Pitamakan Pass and then drops down the Dry Fork Valley before returning to the North Shore trailhead at Two Medicine.
Hikers can ride the tour boat that cruises Two Medicine Lake either one way or round trip to shorten the hike to Dawson Pass. The boat travels to the head of the lake at regular intervals where trails connect to the Dawson Pass trail.
Elevation Profile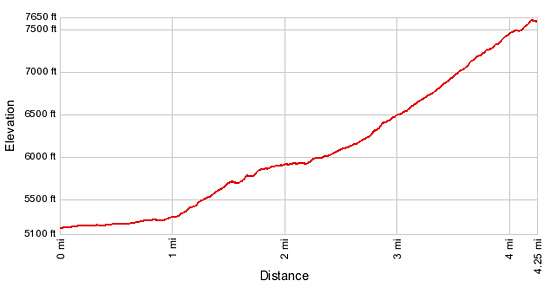 Trail Resources
Trail Detail/Full Description / Trail Photo Gallery / Trail Map
Basecamp(s) Information:
Two Medicine / St Mary
Region Information:
Glacier Natl Park, MT
Other Hiking Regions in:
Montana