Sperry Glacier
Distance: 7.6 miles (round trip)
Glacier National Park, near West Glacier in Glacier Natl Park, MT
This spectacular hike climbs through gorgeous Glacier Basin, passes beautiful waterfalls and lovely alpine lakes before climbing to scenic Comeau Pass, with panoramic views of Glacier's high peaks. A short walk beyond the pass leads to the ice expanse of Sperry Glacier.
See Trail Detail/Full Description
Distance: 7.6 miles (round trip) to Sperry Glacier

Elevation: 3,190-ft. at Trailhead
8,025-ft. at Sperry Glacier

Elevation Gain: 1,605-ft. to Sperry Glacier

Difficulty: strenuous
More Hikes in:
West Glacier / Glacier Natl Park, MT
Why Hike Sperry Glacier
WOW! This is truly an amazing hike. The scenery is nonstop and the views simply breathtaking. The trail starts in Glacier Basin, a scenic gem clad in emerald green meadows and surrounded by a dramatic cirque adorned with waterfalls.
A good trail climbs from the lower basin to the upper basin. In the upper basin the path ascends rocky meadows, talus slopes and rock ledges, traveling by beautiful Feather Woman Lake and Akaiyan Lake, nestled in rocky bowls. Waterfalls cascade down ledges, fed by meltwater from permanent snowfields clinging to the rugged peaks rimming the basin.
The climb through the upper basin leads to a stone stairway chiseled in the basin's headwall. At the top of the stairs is Comeau Pass where an incredible panoramic view unfolds of the high peaks rising around Avalanche Basin, the Logan Pass area and beyond. Edwards Mountain rises to the west.
From the pass a boot-beaten route, marked with cairns and stakes, heads northeast through permanent snowfields. Along the way the path climbs a few rock ledges. The path ends at the Sperry Glacier Overlook.
From the overlook views extend northeast across the icy expanse. Gunsight Mountain towers above the ice field to the west. Below the glacier several meltwater ponds, feeding meltwater to the waterfalls spills down the slopes of Avalanche Basin, lie along a rock plateau. To the north are more great views of the high peaks first seen from Comeau Pass.
A few extremely fit and well acclimated hikers reach the Sperry Glacier on a day hike starting at the Gunsight trailhead near Lake McDonald Lodge. Mere mortals will want to stay at the Sperry Chalet (once it reopens) or the Sperry campground and then dedicate the next day to enjoying this extraordinary area. Advanced reservations are required for both the Chalet and the campground. Check the Glacier National Park and Sperry Chalet website for the most up-to-date information.
Elevation Profile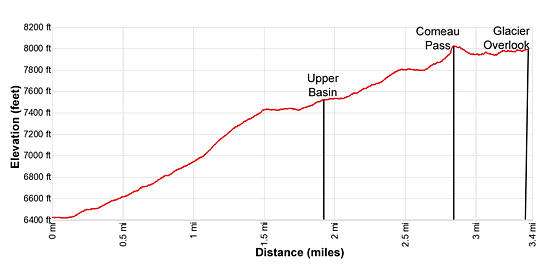 Trail Resources
Trail Detail/Full Description / Trail Photo Gallery / Trail Map
Basecamp(s) Information:
West Glacier
Region Information:
Glacier Natl Park, MT
Other Hiking Regions in:
Montana