Gunsight Pass from Sperry Chalet
Distance: 8.5 - 10.2 miles (round trip)
Glacier National Park, near West Glacier in Glacier Natl Park, MT
Cross two passes and travel above the shores of Lake Ellen Wilson on this superb hike with unsurpassed views of Mount Jackson, Gunsight Mountain, Lake Ellen Wilson and Gunsight Lake. Waterfalls, wildlife sighting and wildflowers add to the trail's appeal.
See Trail Detail/Full Description
Distance: 8.5 miles (round trip) to Sperry Chalet to Gunsight Pass

Elevation: 6,550-ft. at Trailhead
7,050-ft. at Sperry Chalet to Gunsight Pass

Elevation Gain: 1,770-ft. to Sperry Chalet to Gunsight Pass

Difficulty: moderate-strenuous
More Hikes in:
West Glacier / Glacier Natl Park, MT
Why Hike Gunsight Pass from Sperry Chalet
Anyone lucky enough to snag a reservation at the Sperry Chalet or Campground should consider adding Gunsight Pass to the itinerary. The pass can be accomplished in one of two ways. The first option is to schedule an extra night at the Chalet and day hike to the pass. The scenic hike with stunning views crosses Lincoln Pass, travels through the Lake Ellen Wilson basin and then climbs to Gunsight Pass in 4.3 miles. I strongly recommend dropping a short distance beyond the pass for more great views.
The second option, walking into or out of the Chalet or Campground from the Jackson Glacier Overlook, is only recommended for strong, well-conditioned hikers. The 13.2 mile hike gains 2,685-ft while losing almost 4,000-ft. Backpackers will want to plan a 2-3 night backpack with additional nights at Gunsight Lake and/or Lake Ellen Wilson campgrounds.
Whatever option you choose the hike to Gunsight Pass is highly recommended. Views along the trail are nonstop. The initial climb to Lincoln Pass is accompanied by views of Glacier Basin and the Lake McDonald area. On the south side of the pass views soon open to Mount Jackson, beautiful Lake Ellen Wilson and the rugged peaks rising to the north of the trail. Waterfalls adorn the craggy slopes and wildflowers enliven the pretty meadows.
After descending along the west and north sides of Lake Ellen Wilson the trail ascends to Gunsight Pass where views open to Gunsight Mountain. A short jaunt down the far side of the pass expands the views to encompass Fusillade Mountain and Gunsight Lake. Matahpi Peak, Going-to-the-Sun Mountain and Goat Mountain, rising to the north of the Going-to-the-Sun Road, dominate the view to the north. Massive Citadel Mountain towers above the east side of the St. Mary River valley.
Note: The Sperry Chalet's dormitory was burnt during the 2017 fire. Rebuilding is underway. If all goes well the Chalet will reopen for overnight accommodations in 2020. In the meantime, the dining room and campground remains open during the rebuilding period. Check the Glacier National Park and Sperry Chalet website for the most up-to-date information.
Elevation Profile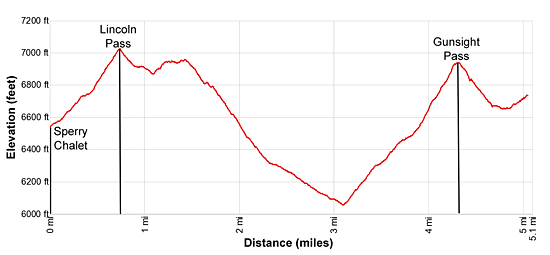 Trail Resources
Trail Detail/Full Description / Trail Photo Gallery / Trail Map
Basecamp(s) Information:
West Glacier
Region Information:
Glacier Natl Park, MT
Other Hiking Regions in:
Montana