Penasco Blanco
Distance: 4.0 - 8.2 miles (round trip)
Chaco Culture National Historic Park, near Chaco Canyon in Northwest New Mexico
Leave the crowds behind on this nice walk visiting a Chacoan Great House. Along the way the trail views the rock art sites along the Petroglyph Trail and passes the "Supernova" pictograph site.
See Trail Detail/Full Description
Distance: 8.2 miles (round trip) to Penasco Blanco

Elevation: 6,110-ft. at Trailhead
6,270-ft. at Penasco Blanco

Elevation Gain: 160-ft. to Penasco Blanco

Difficulty: easy-moderate
More Hikes in:
Chaco Canyon / Northwest New Mexico
Why Hike Penasco Blanco
Penasco Blanco is the longest trail in Chaco Canyon and includes the Petroglyph Trail with numerous Pueblo and Navajo petroglyphs along with historic inscriptions. After the minor detour to view the rock art panels the trail continues to the "Supernova" pictograph, thought to depict an exploding star in the Crab Nebula in AD 1054, and Peñasco Blanco, an unexcavated great house with a unique oval design and a scenic natural setting.
This hike allows you to visit a Chacoan great house without the crowds. The ruins also enjoy fine views to the southeast down the length of Chaco Canyon and to the north where the huge Escavada Wash meets the Chaco Wash.
Be forewarned that this hike is exposed with little or no shade. It is best hiked in the spring and the fall. Be sure to take plenty of water.
Elevation Profile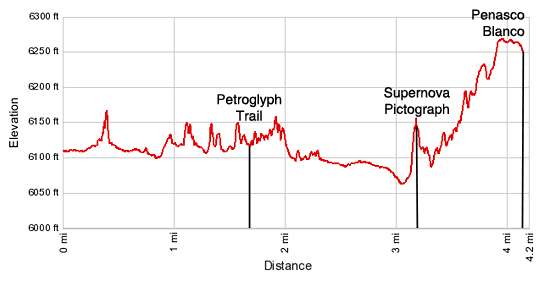 Trail Resources
Trail Detail/Full Description / Trail Photo Gallery / Trail Map
Basecamp(s) Information:
Chaco Canyon
Region Information:
Northwest New Mexico
Other Hiking Regions in:
New Mexico