South Mesa
Distance: 3.4 - 4.9 miles (loop)
Chaco Culture National Historic Park, near Chaco Canyon in Northwest New Mexico
This hike climbs to a high point on the South Mesa to visit Tsin Kletzin, a Chacoan Great House. Along the way the hike enjoys nice vistas of the surrounding country as well as the fine views of great houses located at the western end of Chaco Canyon.
See Trail Detail/Full Description
Distance: 4.9 miles (loop) to South Mesa

Elevation: 6,130-ft. at Trailhead
6,665-ft. at South Mesa

Elevation Gain: 535-ft. to South Mesa

Difficulty: easy-moderate
More Hikes in:
Chaco Canyon / Northwest New Mexico
Why Hike South Mesa
If you are looking for some solitude in Chaco Canyon the loop hike to the top of South Mesa is a good option. Leaving from Casa Rinconada interpretive trail, the path travels along the base of the South Mesa and then turns into South Gap, following the Chacoan South Road for a short distance before climbing to the top of South Mesa. A cross-country traverse across the mesa top leads to the great house ruins of Tsin Kletzin.
Tsin Kletzin sits at interesting location, offering line-of-sight with the "Great Houses" Penasco Blanco, Kin Kletso, Casa Chiquita and Pueblo Alto along with Kin Klizhin, a small Chacoan Great House that lies about 7 miles southwest of the immediate Chaco Canyon area.
The hike offer nice views of the surrounding landscape. The descent from the ruin back to the Chaco valley floor features spectacular views of the Great Houses at the western end of Chaco Canyon. Pueblo Bonito and Chetro Ketl are seen along the north side of the canyon, Pueblo Arroyo is located to the west, and directly below is Casa Rinconada.
Be forewarned there is little or no shade along this route. Take plenty of water. If hiking in the summer try to get an early start to beat the worst of the heat.
Elevation Profile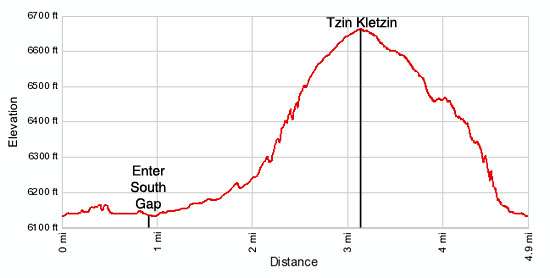 Trail Resources
Trail Detail/Full Description / Trail Photo Gallery / Trail Map
Basecamp(s) Information:
Chaco Canyon
Region Information:
Northwest New Mexico
Other Hiking Regions in:
New Mexico