Details: Una Vida
Distance: 1.0 miles (round trip)
Chaco Culture National Historic Park, near Chaco Canyon in Northwest New Mexico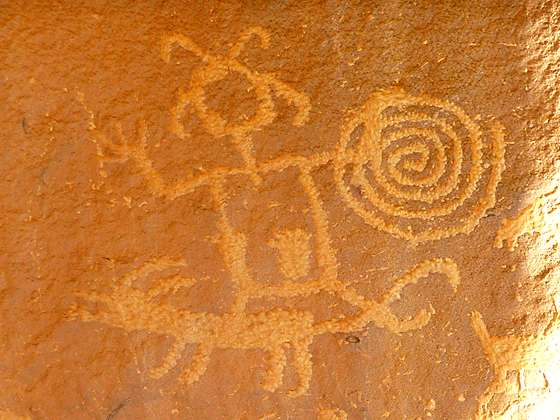 This easy hike visits Una Vida, a Chacoan "Great House" near the Visitor Center. An optional spur path climbs to view small petroglyph panels.
To Una Vida
Follow the wide trail, starting at the northwest corner of the Chaco Canyon Visitor Center parking area, northwest across the mesa for a little over a quarter mile to the Una Vida Ruins. If you are following the interpretive brochure for the site, bear left at the junction into the courtyard of the main complex.
Construction of this Chacoan "Great House" complex started around AD 850, making it one of the oldest buildings in Chaco Canyon. Evidence suggests that construction continued on the structure over the next 250 years. The site is largely unexcavated and looks largely like it did when the sites was described by Lieutenant James H. Simpson on a military expedition through Navajo country in 1849.
The complex had 150 to 200 rooms and was designed with as an "L"-shaped two-three story structure, which opened to the southwest. The ends of the "L" were connected with a wall that may have included 30-40 rooms. At the east end of the plaza area, located between the wall and the main structure, is a great kiva.
After exploring the ruins head to the northwest corner of the complex where a spur trail turns right (north) and climbs a steep, rocky slope to the base of the cliff where you will find interesting petroglyph panels along the canyon wall.
Please treat all ruins and rock you encounter with respect. Never touch the rock art, take tracings or add modern additions.
When you are done exploring the ruins and the rock art retrace your footsteps to the Visitor Center.
Driving Directions
From Bloomfield, NM: Head south on US 550 S for 39 miles and turn right on County Road 7900. The turn is 3 miles southeast of Nageezi and is marked for Chaco Canyon with a large brown sign. Follow CR 7900 for 5.1 miles and then turn right onto County Road 7950, also signed for Chaco Canyon. Travel on CR 7950 for 15.9 miles to the park boundary. Note. After turning off US 550, the first 8 miles of the route is paved and 13 miles are on rough dirt road. The final 4.5 miles of CR 7950 before entering the park are very rough.
Upon entering the park the road surface turns from dirt to pavement. Follow the paved road for 2.5 miles to the Visitor Center (right) where you should pay the park entrance fee and pickup visitor information. The trail starts at the northwest corner of the Visitor Center parking area.
Trail Resources
Trail Intro / Trail Photo Gallery / Trail Map
Basecamp(s) Information:
Chaco Canyon
Region Information:
Northwest New Mexico
Other Hiking Regions in:
New Mexico