Pretty meadows, larch forests and nice views of the Matterhorn make this hike a good option for families and hikers looking for a good half day walk.
Read Full Description
Why Hike Zmutt Loop
Zmutt (6,352-ft/1,936-meters), a tiny 500-year old hamlet southwest of Zermatt, is a photogenic spot with traditional wood house set amid pretty meadows. It is a favorite lunch destination for tourist looking for an easy, scenic walk. Several paths lead to the village. Most people walk along the low route that heads south on Zermatt's main street, Bahnhoffstrasse, along the left (west) side of the Zmutt River.
A more scenic and energetic alternative is the high route to Zmutt, which travels through beautiful meadows, passes the hamlets of Herbrigg and Hubel and offers good views of the Matterhorn, the Breithorn, the highest peak in the Mischabel range – the Taschhorn and Dom and the summits rising above the Findel Glacier.
Most people complete the loop by returning to Zermatt via the popular low path. Hikers looking for more solitude on the return journey can take slightly longer and a little more difficult mid-level path that travels above the low route.
The Zmutt Loop hike offers a good workout and is a nice way to acclimatize if you just arrived in Switzerland. It is a good option for families or parties looking for a half day outing before catching a train. It is also a good option for days with less than optimal weather or when the high country is shrouded in clouds.
Elevation Profile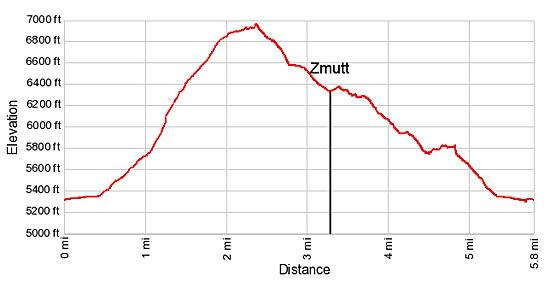 Trail Resources
Trail Photo Gallery / Trail Map
Basecamp(s) Information:
Zermatt
Region Information:
Valais
Other Hiking Regions in:
Switzerland