This scenic hike visits an interesting arch set high atop the north wall of Phipps Wash. An optional extension travels to Maverick Bridge.
See Trail Detail/Full Description
Distance: 8.8 miles (round trip) to Phipps Arch
10.4 miles (round trip) to Maverick Bridge

Elevation: 5,710-ft. at Trailhead
5,570-ft. at Phipps Arch
5,310-ft. at Maverick Bridge

Elevation Gain: 475-ft. to Phipps Arch
475-ft. to Maverick Bridge

Difficulty: moderate-strenuous
More Hikes in:
Escalante / South Central Utah
Why Hike Phipps Arch
Phipps Arch stands high atop the north wall of Phipps Wash surrounded by sandstone knobs. The arch was formed when the erosive forces of ice, wind and water cut through a thick, low ridge of Navajo Sandstone.
The route to the arch first descends an unnamed tributary to Phipps Wash and then travels down the scenic canyon beneath towering sandstone walls stained with desert varnish. The path to the arch is quite steep, climbing slickrock slopes and ledges. The final leg of the ascent negotiates a steep friction pi5tch up a narrow draw to the top of the canyon wall.
Views from atop the canyon wall great extend west to the high sandstone plateaus around Escalante. Looking down enjoy a bird's eye view of the multihued sandstone walls lining Phipps Wash.
An optional extension to Maverick Bridge, a small narrow sandstone bridge spanning the wash of a side canyon, adds 1.6 miles (round-trip) to the hike.
There is a shorter route to the arch and the bridge which travels down the Escalante River to Phipps Wash. The route requires crossing the river a few times in-route to Phipps Wash. Personally I prefer the longer hike. It is more scenic and does not require wading the river.
Note: This is an unmarked path requiring route finding skills. The hike is not recommended for people with a fear of heights or uncomfortable negotiating steep friction pitches.
Elevation Profile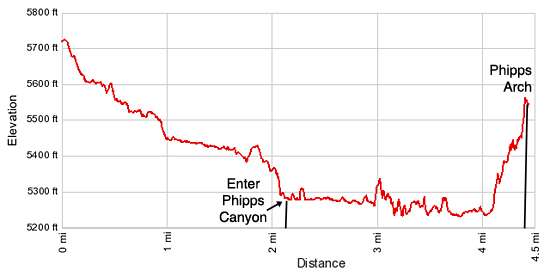 Trail Resources
Trail Detail/Full Description / Trail Photo Gallery / Trail Map
Basecamp(s) Information:
Escalante
Region Information:
South Central Utah
Other Hiking Regions in:
Utah